Search for New Hosts As Zimbabwe Turns Down Cosafa Cup
Zimbabwe has pulled out of hosting this year's annual southern African championship - the Cosafa Senior Men's Challenge Cup - less than a month since being awarded hosting rights. The tournament, which Zimbabwe has won for the past two years, is set to be staged from May 19 to June 1, 2019.
Southern Africa: Zimbabwe Turns Down Cosafa Cup Hosting

New Zimbabwe, 19 February 2019

Zimbabwe has turned down an offer to host the regional Cosafa Cup tournament which was scheduled to begin in May, Sports Minister Kirsty Coventry has revealed. Read more »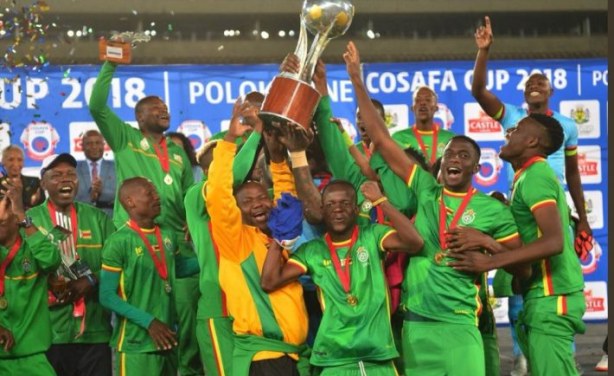 Zimbabwe celebrate after their dramatic victory over Zambia in the 2018 Cosafa Cup final (file photo).
Zimbabwe: Football Body Turns Down Cosafa Cup Hosting

The Herald, 19 February 2019

Organisers of the COSAFA senior men's football tournament were yesterday left to search for a new host nation for the 2019 edition after Zimbabwe turned down the rights citing… Read more »

Zimbabwe: Sports Commission On Cosafa Cup

The Herald, 14 February 2019

It's looking promising for ZIFA's bid to host the 2019 COSAFA Cup with the Sports Commission yesterday indicating things were moving in the right direction. They are now waiting… Read more »

Southern Africa: Zimbabwe to Host 2019 Cosafa Cup Tournament

New Zimbabwe, 23 January 2019

Zimbabwe has been provisionally awarded the rights to host this year's edition of the COSAFA Cup to be held in May subject to getting a Government guarantee, the Council of… Read more »

Zimbabwe: Cosafa Cup Ideal Rehearsal for Afcon

Zimbabwe Standard, 27 January 2019

The 13th edition of the Cosafa Cup is coming to Zimbabwe from May 19 to June 1, so they say. Read more »
InFocus
The Warriors won 4-2 to retain the Southern African championship with a dramatic victory over perennial foes Zambia in the final. Read more »