I Have a Dream of Putting a Job in Every Home - Maimane
South Africa's Democratic Alliance opposition party leader Mmusi Maimane has slammed the ruling party's elite for driving fancy cars and living flashy lifestyles at the expense of the poor. Maimane during the party's election manifesto promised South African voters that "his party will put a job in every home". The party also vowed to tighten what it describes as the county's porous borders.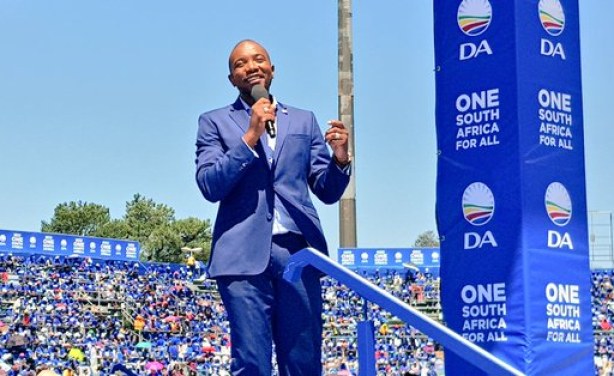 Mmusi Maimane at the #DAmanifesto launch at Rand Stadium.
South Africa: Opposition Makes Election Pledge to Fight Corruption

Deutsche Welle, 23 February 2019

The Democratic Alliance has launched its manifesto for the country's May elections, promising to tackle graft. The party faces a resurgent ruling ANC which has governed the country… Read more »

South Africa: 'The ANC Will Not Change' - DA Punts Jobs, Governance At Manifesto Launch

News24Wire, 23 February 2019

Unveiling the party's election manifesto, the Democratic Alliance has outlined its vision for what South Africa would look like under its government. Read more »

South Africa: Maimane Dreams of a Job in Every Home At the Party's Manifesto Launch

News24Wire, 23 February 2019

DA leader Mmusi Miamane has presented South African voters with an alternative offer, which he says will see his party putting a job in every home. Read more »

South Africa: DA Unveils 'Pro-All South Africans' Manifesto That Is Decidedly Anti-Expropriation

Daily Maverick, 23 February 2019

On Saturday afternoon the Democratic Alliance became the last of the big three political parties to launch its manifesto. This document is clearly well-thought through, and doesn't… Read more »

South Africa: DA Says It Is Ready to Govern As Supporters Gather for Manifesto Launch

News24Wire, 23 February 2019

The DA said it is ready to govern South Africa, and its readiness will be reflected in the manifesto the party is launching on Saturday at the Rand Stadium in Johannesburg. Read more »