Mali Govt Sacks Generals After Deadly Raid on Villages
President Ibrahim Boubacar Keita has replaced 11 army commanders after a pre-dawn attack on villages left 134 people dead and 55 injured. Militants from the Dogon group known as Dan Na Ambassagou have been blamed for scores of attacks over the past year, including this one.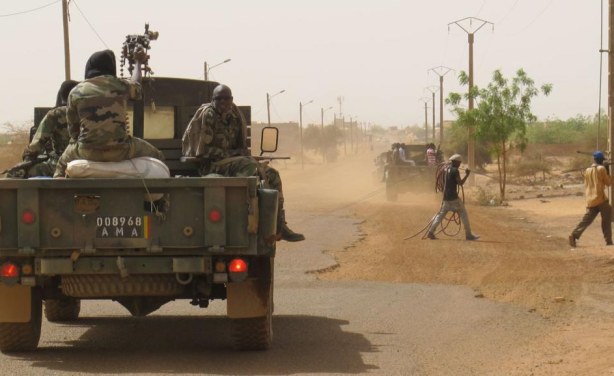 Malian military on patrol (file photo).
Mali: Inter-Ethnic Violence Spikes - UN Calls for Probe

VOA, 27 March 2019

The United Nations Human Rights Office is calling on the government of Mali to investigate the killing of more than 150 people and to bring the perpetrators to justice. The agency… Read more »

Mali: Massacre Linked to Absence of the State and Access to Weapons

RFI, 24 March 2019

At least 135 people, the majority Fulani herders, were massacred in central Mali on Saturday in the deadliest single recent attack in a region where ethnic and jihadist violence is… Read more »

Mali: As Peace Efforts Falter, Violence Spirals Further Out of Control

IRIN, 6 March 2019

Housseyni Diallo thought the smoke and flames he saw were from an early morning bonfire lit in the final revelry of a New Year's Eve celebration. He was wrong: armed men were… Read more »

Mali: In Militarised Mali, Humanitarian Responders Say Aid Is an Afterthought

IRIN, 11 March 2019

In the dust-caked town of Bankass in central Mali, Amadou Guindo waits to register for aid. Read more »

Mali: Death Toll in Jihadist Ambush on Soldiers Hits 23

VOA, 19 March 2019

Officials in Mali have put the death toll from Sunday's militant attack on an army camp in the village of Dioura at 23. Suspected jihadists briefly seized the base in the central… Read more »

Mali: Over 8,000 People Displaced By Armed Groups On Mali Border - Niger

MSF, 1 March 2019

Recently, an upsurge in threats from armed groups operating between the borders of Mali and Niger has caused a new wave of displacement. More than 8,000 people have been forced to… Read more »

Mali: UN Probes Sex Violence in Conflict-Torn Mali

CAJ News, 6 March 2019

THE United Nations (UN) is probing the prevalence of conflict-related sexual violence in Mali. Read more »
InFocus
Human Rights Watch in a new report says that ethnic militias killed over 200 civilians and burned dozens of villages in communal violence in central Mali during 2018. Most victims ... Read more »