Italian Firm in Kenya Dams Scandal Faces Bankruptcy
Italian newspapers have reported that Cooperativa Muratori e Cementisti, one of the companies in the joint multibillion-shilling dams project in Elgeyo-Marakwet County, has filed with the court, its "business continuity" plans on how and when it will pay its creditors and suppliers.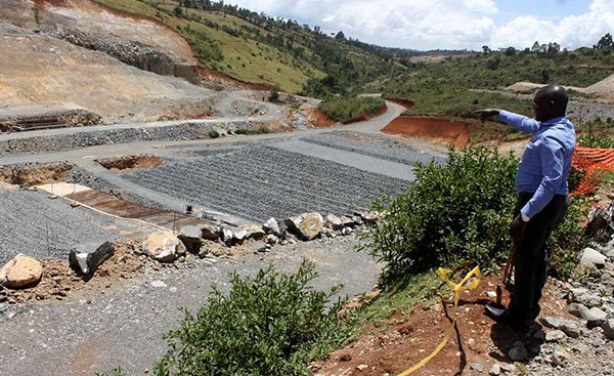 Site in Nakuru where Itare dam is to be constructed by CMC di ravenna. The project has stalled (file photo).
Kenya: New Twist in Dams Scam As Firm Claims 17 Cars

Nation, 2 April 2019

The Rift Valley Water Services Board has sought to be enjoined in a case in which the Directorate of Criminal Investigations (DCI) is investigating how 100 vehicles were bought… Read more »

Kenya: Italian Firm in Dams Scandal Yet to Surrender Machinery

Nation, 21 March 2019

Italian contractor CMC di Ravenna has not surrendered any of the 98 vehicles and construction machinery for safe custody to a Nakuru yard as ordered by the High Court in Nairobi. Read more »

Kenya: Italian Dam Contractor CMC Di Ravenna Yet to Surrender Assets

Nation, 21 March 2019

Italian contractor CMC di Ravenna has not surrendered any of the 98 vehicles and construction machinery for safe custody to a Nakuru yard as ordered by the High Court in Nairobi. Read more »

Kenya: Court Freezes CMC Di Ravenna's Assets Over Kenya's Dams Scandal

Nation, 20 March 2019

More trouble is piling for CMC di Ravenna, the Italian firm at the centre of a Sh21 billion dams scandal, after a high court froze its assets in Kenya. Read more »

Kenya: Italian Firm in Dams Scandal Abandons Project in Nepal

Nation, 5 March 2019

The Italian firm at the centre of a raging controversy over two dams in Elgeyo-Marakwet County is fighting a legal battle in Nepal after it abandoned a project last December,… Read more »

Kenya: It's Actually Sh20 Billion - Rotich Negates Ruto on Dams Scam

Nation, 4 March 2019

Just how much has the government spent on two controversial dam projects in Elgeyo-Marakwet? The answer to that question depends on who between Treasury Cabinet Secretary Henry… Read more »

Kenya: Concerns Raised Over Scandal-Hit Italian Dam Builder

Nation, 16 February 2019

An Italian construction conglomerate that is building three mega dams in the Rift Valley worth more than Sh90 billion is being investigated for allegedly bribing senior government… Read more »
InFocus
An investigation has found that millions set aside for dams, was instead spent on the purchase of 45 vehicles and pickup trucks. While approximately 75% of the dam budget has ... Read more »

The lawmakers want the investigative agencies to focus on projects financed through the Engineering, Procurement, Construction and Financing model, saying the method was a major ... Read more »

Daily Nation investigations have revealed that procurement processes and construction of most of the dams are being carried out under the Engineering, Procurement, Construction and ... Read more »