What Buhari Told Ministers At Valedictory Cabinet Meeting
President Muhammadu Buhari has said that his Cabinet will be dissolved on May 28, ahead of the inauguration of a new government next week. Buhari also praised members of the cabinet who resigned for various reasons.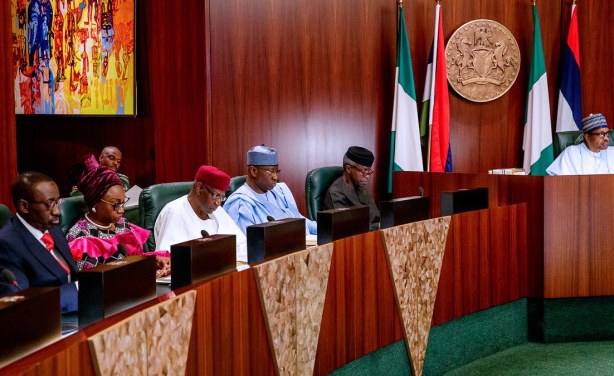 President Muhammadu Buhari presides over Valedictory Meeting of the Federal Executive Council at the State House, Abuja.
Nigeria: Why I Refused to Sack Cabinet Ministers - Buhari

Guardian, 22 May 2019

President Muhammadu Buhari has said that his decision to retain cabinet Ministers in the last three and half years in spite of pressures from some quarters is because of their… Read more »

Nigeria: Fayemi Emerges New Chairman of Nigeria Governors Forum

Premium Times, 23 May 2019

The Nigeria Governors Forum on Wednesday elected Kayode Fayemi as its new chairman for a term of two years. Read more »

Nigeria: Valedictory Cabinet Session - What Osinbajo, Ministers Said About Buhari

Premium Times, 22 May 2019

Vice President Yemi Osinbajo and ministers on Wednesday spoke about their experiences working with President Muhammadu Buhari. Read more »

Nigeria: Fayemi, Tambuwal Clinch Nigeria Governors Forum Top Posts

Guardian, 23 May 2019

The Nigeria Governors Forum (NGF) has elected Governor Kayode Fayemi of Ekiti State as its new chairman. Read more »

Nigeria: 'Many People Don't Believe Buhari Cracks Jokes, Laughs'

Guardian, 23 May 2019

The president smiled. He did not wear the hard mien with which he has been associated as a retired general. What drew the smile from President Muhammadu Buhari was a joke by the… Read more »

Nigeria: I Must Secure Kastina Now, Buhari Vows

Vanguard, 22 May 2019

Angered with the killings in Kastina on Tuesday, President Muhammadu Buhari, Wednesday instructed the Acting Inspector General of Police, Mohammed Abubakar Adamu and Chief of… Read more »

Nigeria: Osinbajo - Buhari Will Focus On Job Creation in Second Term

This Day, 22 May 2019

Vice President Yemi Osinbajo has said that President Muhammadu Buhari will be focusing on employment generation and infrastructure development in his second term in office. Read more »

Nigeria: Buhari Orders Ministers to Work Till May 28

Premium Times, 22 May 2019

President Muhammadu Buhari has asked ministers to continue in office until Tuesday next week, a day to his inauguration for a second term as Nigeria's president. Read more »

Nigeria: 2nd Term - Buhari Keeps Ministers Guessing

Daily Trust, 23 May 2019

President Muhammadu Buhari yesterday left ministers in suspense as he met with them for the last time. Read more »

Nigeria: Buhari Not Clear About Sacking or Retaining Ministers - Dr. Kari

Daily Trust, 23 May 2019

President Muhammadu Buhari was not clear in his speech yesterday as to whether he will retain or sack his ministers, a lecturer at the University of Abuja, Dr. Abubakar Umar Kari,… Read more »
InFocus
President Muhammadu Buhari has asked cabinet members for comprehensive status reports on policies, programmes and projects for their respective ministries, departments and ... Read more »