Africa's Demand for Cryptocurrencies Surges
The price of bitcoin soared to an all-time high of $20,000 in December 2017 and collapsed to $3,400 a month later, prompting speculation that cryptocurrencies had imploded in the fizz of their own hype and unfulfilled promises. Since then, however, the price has held steady and even begun to tick back upwards. In South Africa, and on the continent, there have been several recent crypto developments, suggesting the market here is beginning to tingle with life, writes Sasha Planting for The Daily Maverick.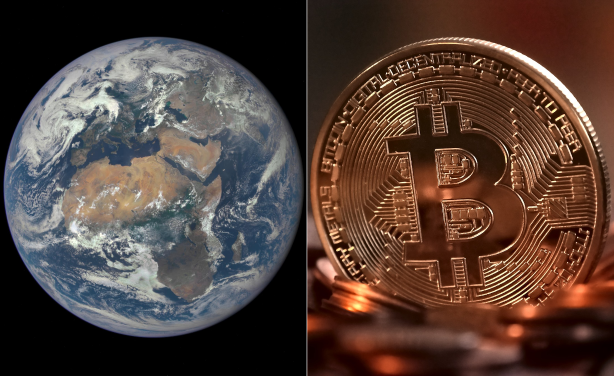 Left: Satellite image of Africa. Right: Bitcoin mock-up.
Ethiopia: Ethiopia's Digital Economy: Boom, Bang

Addis Standard, 18 April 2019

A flourishing digital economy is a new feature in the dynamics of the new Ethiopia. Slower as this explosion might be compared to the case in other countries, marked by competitive… Read more »

South Africa: Up. Down. Is There Any Remaining Case for Diversification Into Crypto Assets? Surprisingly, There May Be

Daily Maverick, 27 March 2019

As an investor, it doesn't matter whether you think cryptocurrency is a bubble, a fad or just an illicit way of moving funds around behind authorities backs. The fact remains that… Read more »

Nigeria: Bitcoin Surges Past $4,000 As Nigerians Trade N1.27bn

Leadership, 19 March 2019

With the overall cryptocurrency market capitalisation growing by $5 billion, the price of Bitcoin broke the $4,000 benchmark at the weekend and was able to sustain it, as the… Read more »

Zimbabwe: High Bank Service Charges - Case for Crypto-Currencies

Zimbabwe Independent, 8 March 2019

Bank service charges or fees make a compelling case for the mass adoption of crypto-currencies, particularly in developing countries, where these fixed costs remain… Read more »