Presidential Recall Bid in South Africa - Zuma Escapes Again
President Jacob Zuma has once again survived his political party debating his removal from office. It was the latest in many motions and debates calling for his recall this past year - and all failed despite several reports of corruption levelled against him.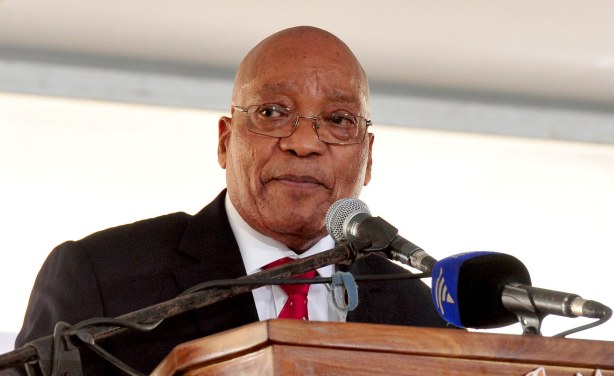 President Jacob Zuma at Freedom Day 2017 celebrations.
South Africa: Zuma Supporters Prepare to Defend Him

News24Wire, 25 May 2017

Supporters of President Jacob Zuma in the ANC's national executive committee (NEC) are planning to oppose any move for him to be recalled when they meet this weekend. Read more »

South Africa: Ruling ANC Loses Local Election in Zuma Heartland

News24Wire, 25 May 2017

The IFP's victory in the Nquthu by-election shows voters know who the "genuine politicians" are, the party said on Thursday. Read more »

South Africa: 'Silent Coup' Creates 'Shadow State' in SA

PARI, 25 May 2017

This report suggests South Africa has experienced a silent coup that has removed the ANC from its place as the primary force for transformation in society. Read more »

South Africa: Govt Has 'Lost Moral Legitimacy,' Say Churches

SACC, 23 May 2017

Why we are here: In 1996, President Nelson Mandela addressed a gathering of African Ombuds Officers - the Public Protectors of Africa, then hosted by South Africa, and he said: Read more »

South Africa: ANC Stalwarts, Veterans Call On NEC to Wake Country From 'Nightmare'

News24Wire, 26 May 2017

ANC stalwarts and veterans have pleaded with the party's national executive committee (NEC) to show leadership over serious state capture concerns, ahead of its meeting on Friday… Read more »

South Africa: Things Are Getting Rough for Zuma - Analyst

News24Wire, 23 May 2017

Fired ministers are now using Parliament as a battle ground to fight President Jacob Zuma, political analyst Ralph Mathekga said. Read more »
Documents
Publisher:

Publication Date:

25 May 2017

A major, new study on the country's emerging Shadow State, by the State Capacity Research Project, an interdisciplinary, interuniversity research ... see more »
InFocus
Supporters of Jacob Zuma in the African National Congress's National Executive Committee described renewed calls for the president to be ousted as fallacious and that any motion to ... Read more »

Oakbay Investments is a company owned by the brothers Gupta who are named in a "state capture" report released by former Public Protector Thuli Madonsela, in which they are accused ... Read more »

Opposition parties expressed confidence that the Constitutional Court will rule in favour of a secret ballot to be cast during a motion of no-confidence against President Jacob ... Read more »