Adolescents Lead in HIV Infection Rate in Africa - Report
The World Health Organization estimates that by next year at least 1.8 million children will be on treatment from the sexually transmitted disease. The pandemic is the biggest killer of adolescents in the continent, the report says.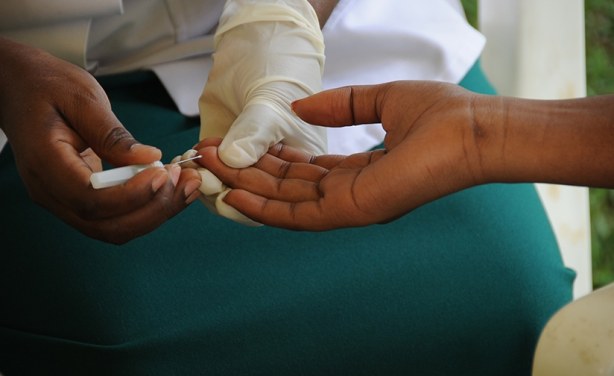 A volunteer tests for HIV (file photo).
Africa: Trump's HIV Aid Cuts Could Cost 9 Million Life Years Lost

Thomson Reuters Foundation, 28 August 2017

Trump's proposed budget envisions cuts to the AIDS relief programme which supports treatment, testing and counselling for millions worldwide. Read more »

Congo-Kinshasa: HIV Is Still Taboo in the DRC - Chronicles From Kinshasa

The Conversation Africa, 28 August 2017

In 2016 I conducted in-depth interviews with patients at a 42-bed AIDS unit run by Médecins Sans Frontières in Centre Hospitalier Kabinda in Kinshasa, as well as… Read more »

Angola: Huila - Fight Against Aids Programme Expands Services

ANGOP, 29 August 2017

The Fight Against Aids Programme in the southern Huila Province since last May has been expanding its services of voluntary HIV tests and the holding of counselling campaigns in… Read more »

Namibia: High Teenage Pregnancy Rate Concerns Geingos

New Era, 29 August 2017

First Lady Monica Geingos is worried about teenage girls who seem more concerned about falling pregnant and less so about contracting HIV-AIDS, a disease for which there is no… Read more »

Africa: Activists Stunned By HIV Funding Decision

GFO, 22 August 2017

Eight grants worth nearly $60 million are affected by the decision Read more »

Liberia: HIV Increases in Liberia

NEWS, 28 August 2017

The National AIDS Commission of Liberia (NAC) has reported an increased in the number of persons infected with HIV in Liberia. Read more »

Malawi: Pastors Ask for Registration of Churches

Malawi News Agency, 28 August 2017

In the wake of the HIV and AIDS pandemic, Pastors Fraternal in Ntchisi Thursday asked the district council to consider registering churches to bring sanity in their operations,… Read more »

Liberia: HIV Cases Increase

National Aids Commission, 25 August 2017

Monrovia/Friday, August 25, 2017/NAC: With the national HIV prevalence at 2.1%, the National AIDS Commission of Liberia has reported an increase in the number of persons living… Read more »