Liberian President Returns to Capitol For Final U.S. Speech
A decade after President Ellen Johnson Sirleaf electrified a joint sitting of the U.S. Congress with a speech only two months after her inauguration to lead the war-ravaged nation, she delivered her final U.S. address as head-of-state. The speech, panel discussion and reception that followe, was attended by many members of Congress from both parties.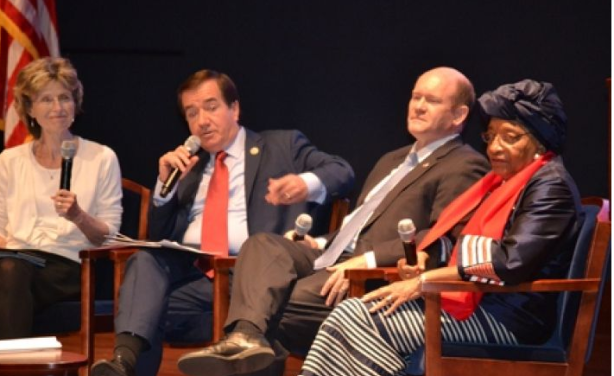 Following her final U.S. address as Liberia's president, Ellen Johnson Sirleaf took part in a panel discussion at the U.S. Capitol with Sen. Chris Coons and Rep. Ed Royce, with Tami Hultman of AllAfrica moderating.
Liberia: Sirleaf Delivers Final Speech at U.S. Capitol as President

allAfrica, 26 September 2017

Remarks by Her Excellency Ellen Johnson Sirleaf, President of the Republic of Liberia, on the Occasion of a joint program sponsored by the United States Institute of Peace (USIP),… Read more »

Liberia: 'America's Leadership in the World Is Needed' - Says President Sirleaf

Govt of Liberia, 27 September 2017

In her final major speech at the United States Capitol in Washington, President Ellen Johnson says America's leadership is needed today, more than ever as the world faces new… Read more »

Liberia: Sens. Coons, Booker, Durbin Introduce Resolution Reaffirming U.S.-Liberia Relationship - Calling for Free, Fair Elections in October

Govt of Liberia, 3 October 2017

Last week, U.S. Senators Chris Coons (D-Del.), Cory Booker (D-N.J.), and Dick Durbin (D-Ill.) introduced a resolution reaffirming the United States-Liberia partnership and calling… Read more »

Liberia: Ellen Lauds Black Caucus

NEWS, 27 September 2017

President Ellen Johnson Sirleaf has lauded the United States Congressional Black Caucus (CBC) for being at the forefront in advocating for Liberia from years of conflict to the… Read more »

Liberia: U.S. Congressional Foreign Affairs Committee Weighs in On Liberia Elections

FrontPageAfrica, 14 September 2017

The U.S. Congress Foreign Affairs Committee Wednesday conducted hearing into "The Future of Democracy and Governance in Liberia" recalling Liberia's emergence from ruthless civil… Read more »
InFocus
"Liberia was on the right trajectory in its recovery from conflict [before Ebola struck] - moderate but steady economic growth resulting from thoughtful policies and the support of ... Read more »

President Ellen Johnson Sirleaf told a U.S. Congress' subcommittee hearing that the Obama Administration's support "encouraged the rest of the world to respond to this global ... Read more »