Mugabe in Shock Cabinet Reshuffle, Creates Cyber Ministry
President Robert Mugabe has shifted members of his Cabinet around, mostly taking powerful ministries from those allegedly supporting Vice President Emmerson Mnangagwa and giving those posts - and new ones - to those apparently backing his wife, Grace Mugabe and her supporters in the G40 faction. The ruling Zanu PF party is divided over who should succeed Mugabe when he dies.
Zimbabwe: Rivals Slam Mugabe Cabinet 'Yawn'

New Zimbabwe, 10 October 2017

Zanu PF opponents have scorned President Robert Mugabe's cabinet reshuffle Monday which saw the shock demotion of Finance Minister Patrick Chinamasa to cyber security ministry… Read more »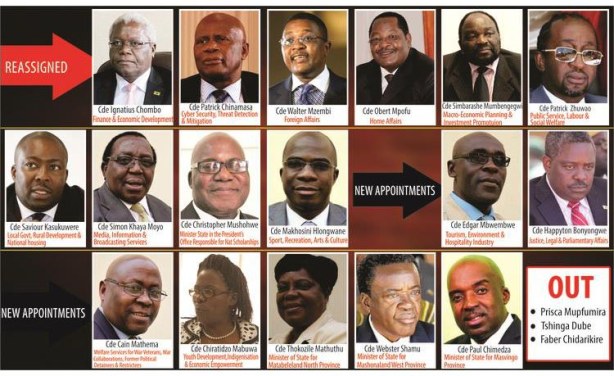 President Robert Mugabe's new Cabinet.
InFocus
Zimbabwe's President Robert Mugabe said that he may make changes to his cabinet at a time of rising tensions within his ruling party over who will eventually takeover from him. The ... Read more »