Africa Makes Itself Heard on Climate #COP23
African participants are working hard to ensure their voices are being heard, amid fears that the so-called "Trump effect" could make matters worse for developing states. Africa is the continent which will likely be affected the most by climate change, with almost two-thirds of its population making its living off the land.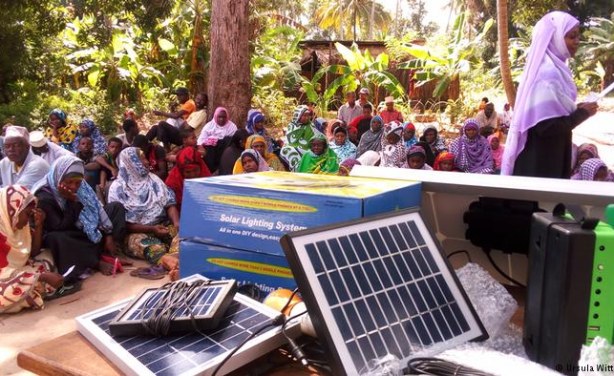 Solar power is just one of many ways Africa is helping to reduce greenhouse gas emissions
Africa: Cop23 - African Youth Fighting for Climate Action

Deutsche Welle, 12 November 2017

Africa is harnessing the power of its emerging youth demographic to spearhead efforts to tackle climate change. Read more »

Africa: Cop23 - Africa Makes Itself Heard

Deutsche Welle, 7 November 2017

As COP23 kicks off in Bonn this week, African participants are working hard to ensure their voices are being heard, amid fears that the so-called "Trump effect" could make matters… Read more »

Africa: Don't Let Donald Trump Distract Us

Thomson Reuters Foundation, 6 November 2017

Any views expressed in this article are those of the author and not of Thomson Reuters Foundation. Read more »

Ghana: Mobilizing Funding to Implement Ghana's Climate Change Agenda

Ghana Govt., 8 November 2017

One of the most challenging environmental concerns of the world today is climate change - a phenomenon acknowledged to have adverse impacts on ecosystems, human lives and… Read more »

Zimbabwe: Seed Banks Help Zimbabwe's Farmers Tackle Climate Change

IRIN, 7 November 2017

"Seed security is food security" is something of a mantra in developing world agronomy circles. In Zimbabwe, the adage is gradually being put into action by promoting the use of… Read more »

Africa: Africa Receives Tips to Meet Paris Agreement Targets

CAJ News, 8 November 2017

AFRICAN countries can meet climate targets promised in the landmark Paris Agreement by catalysing trillions of dollars in private investments through a combination of smart policy… Read more »

Africa: Developing Countries Push Developed Countries to Deliver

Malawi News Agency, 8 November 2017

The 25 like-minded developing countries attending the 23rd Conference of Parties (COP23) in Bonn, Germany have pushed for developed countries to deliver on their commitments under… Read more »

South Africa: A Just Transition From Climate Change and Unemployment - a Trade Union Perspective

Daily Maverick, 7 November 2017

The Alternative Information & Development Centre's (AIDC) latest research - One Million Climate Jobs - Moving South Africa forward on a low-carbon, wage-led and sustainable… Read more »

Africa: My Vision for a Pollution-Free Planet

IPS, 3 November 2017

For too long, the relationship between prosperity and environment has been seen as a trade-off. Tackling pollution was considered an unwelcome cost on industry and a handicap to… Read more »

Namibia: Farmers Must Adopt to Reality of Climate Change

New Era, 7 November 2017

Resettlement farmers must realise that climate change is a reality and must thus adopt smart agricultural practices including diversifying their farming enterprises. Read more »

Africa: Got Climate Questions? Climate Watch Has Answers

IPS, 3 November 2017

Negotiators and stakeholders headed to Bonn, Germany, for next week's UN climate summit continue to confront a range of questions surrounding one essential query: How do we meet… Read more »

Africa: Bonn - UN Climate Conference to Maintain Ambition One Year After Paris Accord's Entry Into Force

UN News, 3 November 2017

One year after the entry into force of the Paris Agreement on climate change, the Bonn Conference, which opens on 6 November in Germany, will be an opportunity for nations around… Read more »
Seeds displayed at Chimukoko Community Seed Fair in Mudzi.

The 2017 UN Climate Change Conference aims to launch nations towards the next level of ambition needed to tackle global warming and put the world on a safer and more prosperous development path. COP23, coming just two years after the landmark adoption of the Paris Climate Change Agreement, will also further fuel momentum among cities, states, regions, territories, business and civil society in support of national climate action plans, the internationally-agreed temperature goal and the wider objectives of the 2030 Agenda for Sustainable Development.

The changing climate is a major pressure on communities across Madagascar.