East African States To Raise U.S.$55 Billion for Infrastructure
East African Community member states will need to raise U.S.$55 billion as a collective contribution towards proposed flagship infrastructure projects. The projects, which are seen as key in connecting the six partner states, were approved in Tanzania during a meeting of the EAC's council on transport, communication and metereology.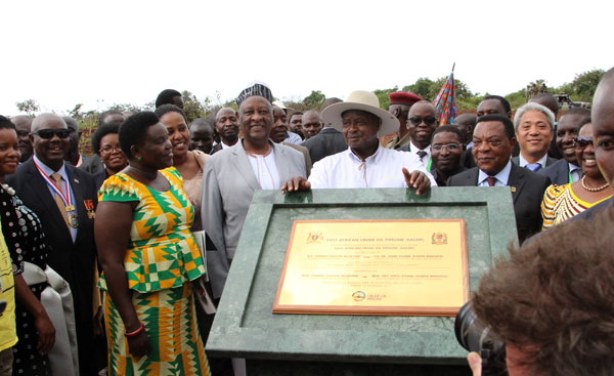 President Yoweri Museveni (in hat), the Omukama of Bunyoro Solomon Gafabusa Iguru, left, and the Tanzanian foreign affairs minister Dr Augustine Mahiga, right, commission the oil pipeline.
East Africa: EAC Approves U.S. $55 Billion Infrastructure Projects

Citizen, 21 November 2017

The East African Community (EAC) would need a hefty $ 55 billion to implement a number of proposed flagship infrastructure projects in the coming years. Read more »

Uganda: Transport Deal a Milestone for Regional Trade

Citizen, 14 July 2017

Uganda and Tanzania trade is heading into a milestone after the former opted to sign a Memorandum of Understanding (MoU) on Cooperation and Improvement of Ports and Inland… Read more »

East Africa: East African Community Adopts Its Energy Security Agenda.

Economic Commission for Africa, 27 November 2017

The East African Community (EAC) has adopted its Energy Security Policy Framework seeking to ensure the security of the region's biomass, electricity, and oil and gas supplies. Read more »

East Africa: Region Upbeat About Economic Prospects for 2018

East African, 22 November 2017

East African economies are expected to see an expansion in communications, transport and construction sectors next year. Read more »

Uganda: Magufuli, Museveni Sign Big Business Deals

Independent (Kampala), 22 November 2017

If holding hands, beaming smiles, and signing piles of Memoranda of Understanding (MoUs) is a measure, then Tanzanian President John Pombe Magufuli's visit to Uganda from Nov.9 -… Read more »
InFocus
Building bridges and repairing roads and replacing aging power plants may not be click bait, and 'regional integration' sounds even more boring. But without those things, Africa's ... Read more »