Red Pepper Editors Denied Bail in Ugandan Court
The editors and directors of Red Pepper, a popular tabloid newspaper, will remain in jail until December 19 when a court will consider their bail appeal. The group was detained on November 21 over what authorities called a fake news story about a political plot implicating the president.
Uganda: US Envoy Decries Attack On Media

Monitor, 7 December 2017

The United States Ambassador to Uganda, Ms Deborah Malac, has described the media environment in Uganda as "increasingly threatening" and reminded government of its responsibility… Read more »

Africa: In Defense of Uganda's Red Pepper

CPJ, 13 December 2017

CPJ has included eight staffers of the controversial Ugandan tabloid Red Pepper in its 2017 global census of imprisoned journalists. Some may disagree with that decision. Read more »

Uganda: No Bail Yet for Red Pepper Editors

Independent (Kampala), 5 December 2017

The editors and directors of one of Uganda's most popular tabloid newspaper groups Red Pepper will remain remanded until December 19 when Buganda Road Court will consider their… Read more »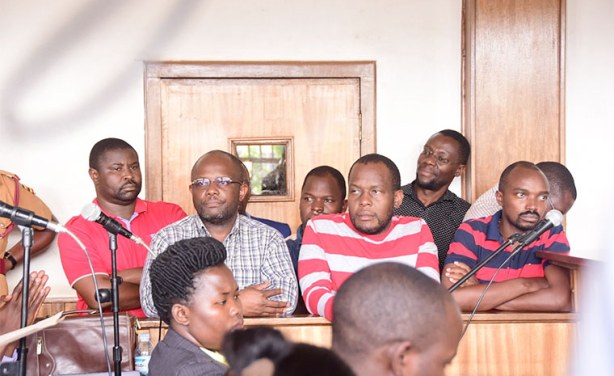 Red Pepper editors and directors in court on December 5, 2017.
InFocus
Eight Red Pepper journalists who were arrested on Tuesday are to be charged with treason, an offence punishable by death. It has been reported that the arrests were made in ... Read more »

The editors of local daily tabloid Red Pepper have been charged with seven counts, including the publication of information prejudicial to security and libel. The group is also ... Read more »