U.S. Lays Out Africa Priorities Ahead of Tillerson Visit
As the American Secretary of State Rex Tillerson prepared to leave for a five-nation trip to East Africa, the Sahel and Nigeria, he outlined the current administration's concerns for the continent, and the head of the U.S. military in Africa, General Thomas Waldhauser, reported to Congress.
While both Tillerson and Waldhauser, in line with the Trump administration's focus on U.S. military activity in Africa, dealt at length with counter-terrorism initiatives, Tillerson also ranged widely on other issues, such humanitarian assistance, trade, energy and democracy-building. He also attacked China's approach to Africa. Discussing China's new military base in Djibouti, Waldhauser said more Chinese bases were likely to be established on the East African coast.
Nigeria: U.S. Announces $533 Million for Nigeria, Others

Vanguard, 7 March 2018

The U.S. has announced about 533 million dollars in humanitarian assistance for Nigeria, Ethiopia, Somalia, and South Sudan, as well as countries in the Lake Chad region. Read more »

Africa: U.S. Secretary of State Spells Out Priorities for Africa Visit

State Department, 6 March 2018

The text of an address by United States Secretary of State Rex Tillerson, at George Mason University, Virginia, ahead of his visit to Ethiopia, Kenya, Nigeria, Chad and Djibouti.… Read more »

Africa: Military Force Won't Solve Africa's Problems - U.S. Military Commander

Africom, 6 March 2018

A presentation by General Thomas D. Waldhauser, Commander, U.S. Africa Command, to the Armed Services Committee of the United States House of Representatives in Washington, DC: Read more »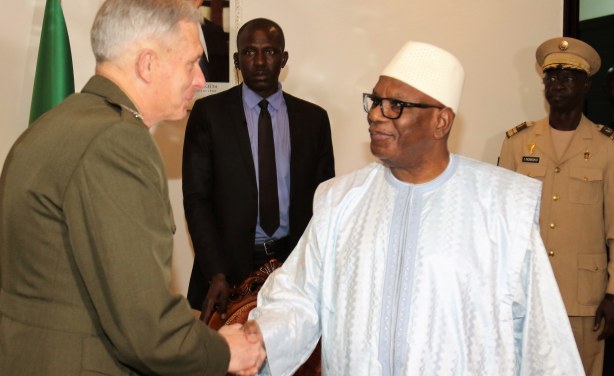 The commander of United States forces in Africa, General Thomas D. Waldhauser, greets President Ibrahim Keita of Mali during a recent meeting in Bamako.
InFocus
Tillerson would be covering the same issues that have motivated similar African tours by every U.S. Secretary of State since the end of the Cold War. Realistically, Tillerson's ... Read more »

On his first official trip to Africa, Secretary Rex Tillerson will meet with leadership in each country, as well as the leadership of the African Union Commission based in Addis ... Read more »