Nigerian Govt Revises Number of #DapchiGirls - Again
Minister of Information and Culture Lai Mohammed says a total of 111 girls were abducted from a school in Dapchi, with one student not reflected on the school's original list of 110 names. He says two other people - not students of the college - were captured, bringing the the total number of abducted people to 113. "So far, a total of 107 persons, comprising 105 Dapchi schoolgirls and the two non-students, have been released," he said. It had earlier been reported that Leah Sharibu, who was still being by Boko Haram, had been released but that was later denied.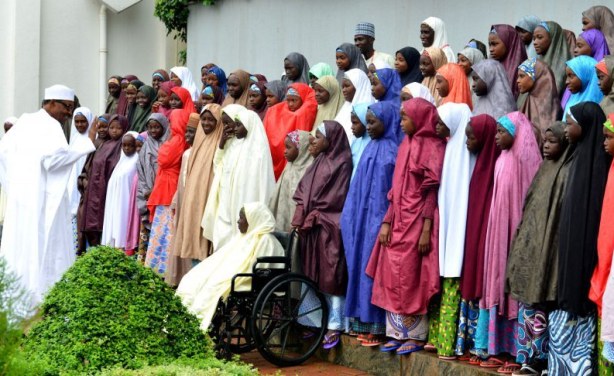 President Muhammadu Buhari, left, with the released Dapchi schoolgirls at a ceremony at the presidential villa in Abuja on Friday March 23, 2018,
Dapchi schoolgirls.
InFocus
The government has accused the Peoples Democratic Party of "plumbing the depths of infamy" for saying the abduction and release of the Dapchi girls was stage-managed. The party ... Read more »

Over 100 girls who were abducted from their school in Dapchi over a month ago by Boko Haram militants have been released, with the government denying that any ransom or exchange of ... Read more »

One of the abducted schoolgirls says that five girls died, while one - a Christian - was still in captivity for refusing to denounce her faith. She also said they were fed with ... Read more »