What Are Noncommunicable Diseases and Their Risk Factors?
According to the WHO, noncommunicable diseases are responsible for almost 70% of deaths globally. The list includes heart disease, stroke, cancer, diabetes and chronic lung disease. Four major risk factors are tobacco use, physical inactivity, the harmful use of alcohol and unhealthy diets.
Tanzania: What Does It Mean When We Speak of NCDs

Citizen, 21 June 2018

In 2010, the World Health Organisation (WHO) released a report titled, 'Global status report on non-communicable diseases: Description of the global burden of NCDs, their risk… Read more »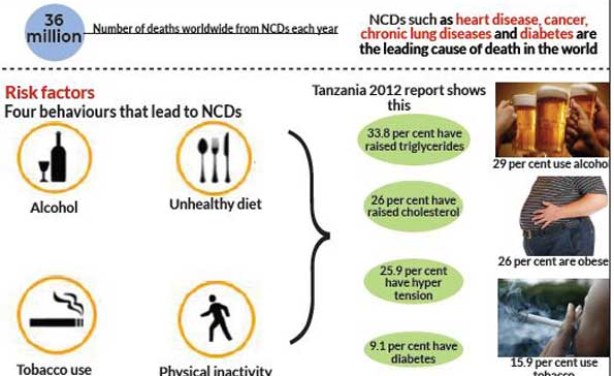 Tanzania is among the developing countries facing the major challenge of Non-Communicable Diseases (NCDs).
Video
Author:

AllAfrica

Publisher:

Publication Date:

20 July 2018

Most African countries are putting measures in place to prevent deaths from noncommunicable diseases like cancer. Tanzania is injecting funding to ... see more »
Tanzania: One Step At a Time As Tanzania Fights Lifestyle Diseases

Citizen, 21 June 2018

Tanzania is among the developing countries facing the major challenge of Non-Communicable Diseases (NCDs). Read more »

Eritrea: Workshop On Non-Communicable Diseases

Shabait, 14 June 2018

The Ministry of Health organized a workshop on non-communicable diseases from 12 to 13 June with the objective to increase the understanding of the stakeholders on the status of… Read more »

Malawi: First Lady Launches Nutrition Policy

Malawi News Agency, 21 June 2018

Despite Malawi registering a success story in addressing malnutrition, the country still has a challenge of addressing overweight and obesity which are on the rise especially among… Read more »

Nigeria: Foundation Moves to Save 2,000 Men From Prostate Cancer

This Day, 19 July 2018

The Project PINK BLUE, a cancer fighting organisation, in partnership with Aspire Coronation Trust (ACT) Foundation, has embarked on a lifesaving initiative across cities in… Read more »

Tanzania: Tackling NCDs - Tanzania Faces Tough Journey

Citizen, 18 June 2018

Eight years ago, the World Health Organisation (WHO) warned that by 2030, up to 52 million lives would be lost globally due to lifestyle diseases. Read more »

Tanzania: One Child Out of 100 Born With Heart Diseases - Expert

Citizen, 28 May 2018

One out of 100 newborns has cardiovascular diseases, a heart diseases specialist for children, Dr Naiz Majani has revealed. Read more »

Africa: Preventing Noncommunicable Diseases Generates Major Gains - Report

WHO, 23 May 2018

A new WHO report launched today (May 16) shows that the world's poorest countries can gain US$350 billion by 2030 by scaling up investments in preventing and treating chronic… Read more »
InFocus
Non-Communicable Diseases (NCDs) are a major threat in Africa. It is estimated that there will be about 3.9 million deaths from these diseases in Africa by 2020. The burden of ... Read more »