No Day Zero for 2019 but How Secure Is Cape Town's Water?
Cape Town Executive Deputy Mayor Alderman Ian Neilson has said that the dreaded Day Zero - the day when most of the taps will be turned off - will not happen in 2018 or 2019. However, the announcement comes as, depite promising winter rains, the city remains in a state of drought with level 6B water restrictions still in place.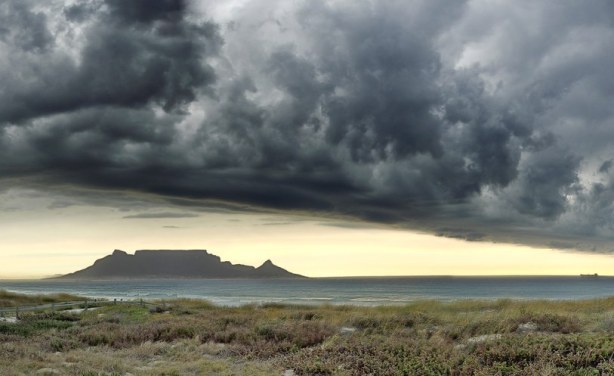 Storm clouds in the skies above Table Mountain in Cape Town (file photo).
South Africa: 'You Are Not Alone in This Drought, We Have a World of Cape Towns' - Environment Activist

News24Wire, 28 June 2018

Cape Town, along with several cities across the world, is facing crippling droughts, but it is not water that Capetonians should worry about - it is waste water, suggested a… Read more »

South Africa: Cape Town Dams Filling Up, but Drought Not Broken

News24Wire, 25 June 2018

The recent winter rains pushed the overall level of the City of Cape Town's supply dams up to 42.7% full on Monday, higher than it was at this time in 2017 or 2016. Read more »

South Africa: Shacks Flooded After Week of Cape Rains

GroundUp, 22 June 2018

Cape Town's much-needed rains have raised the dam levels to over 40% (as of 21 June), higher than at the same time in 2017 and 2016, but still lower than 2015. Day Zero is unlikely… Read more »
InFocus
Adaptation Futures 2018 - one of the largest gatherings of climate scientists, practitioners and business leaders - has taken place for the first time on the African continent, ... Read more »

Despite higher than anticipated levels of winter rainfall and a powerful cold front, the city still faces a drought unless much more rain falls, the South African Weather Service ... Read more »