Ruling Party's Kayode Fayemi Wins Governor Election in Ekiti
The All Progressives Congress candidate in the Ekiti governorship election, Kayode Fayemi, has won. President Muhammadu Buhari has congratulated Fayemi and the electoral body on the conduct of the vote but the opposition People's Democratic Party has rejected the result, alleging electoral fraud.
Nigeria: Tinubu Reacts to Fayemi's Election, Commends Fayose

Premium Times, 16 July 2018

A national leader of the All Progressives Congress, Bola Tinubu, on Sunday said the election of Kayode Fayemi in Saturday's Ekiti gubernatorial poll was a victory for the people. Read more »

Nigeria: Ekiti - As Fayemi Emerges Winner

Leadership, 16 July 2018

Streets of major towns in Ekiti State yesterday morning, especially within the state capital, erupted in wild jubilations yesterday, as thousands of members and supporters of the… Read more »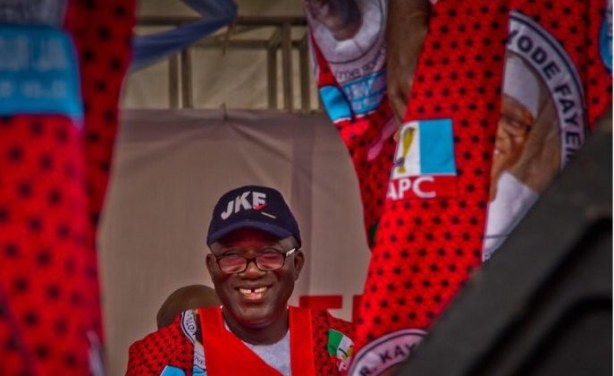 Kayode Fayemi.
Nigeria: Fayemi's Victory Is Defeat of Obasanjo, Fayose - Presidency

Vanguard, 16 July 2018

Kayode Fayemi's victory in the Ekiti State governorship election is a referendum on President Muhammadu Buhari's leadership of the country and defeat for the divisive politics… Read more »

Nigeria: How Fayose Lost Ekiti

Vanguard, 16 July 2018

After winning the 2014 round in the duel between the two men, it was the turn of the outgoing governor of Ekiti State to lose what was a battle of ego between the former political… Read more »

Nigeria: Ekiti People Have Spoken Loud and Clear - Buhari

This Day, 15 July 2018

President Muhammadu Buhari on Sunday in a congratulatory message to the winner of the Ekiti State governorship election, Dr. Kayode Fayemi, said Ekiti people had spoken loud and… Read more »

Nigeria: EkitiDecides2018 - I Won't Run Away From Nigeria - Fayose

Premium Times, 16 July 2018

An undaunted Ayodele Fayose, governor of Ekiti State, has said he will not abscond from Nigeria when his immunity from criminal prosecution elapses in October. Read more »

Nigeria: Fayemi's Victory an Endorsement of Buhari Administration - Govt

Guardian, 16 July 2018

The Federal Government yesterday described the victory of the All Progressives Congress (APC) in Saturday's Ekiti governorship election as a referendum on the performance of the… Read more »

Nigeria: Fayemi Wins Ekiti Gubernatorial Election

Premium Times, 15 July 2018

With victory in 12 out of the 16 local government areas of Ekiti State, the candidate of the opposition All Progressives Congress (APC) Kayode Fayemi, has effectively won the Ekiti… Read more »

Nigeria: How APC Should See Kayode Fayemi's Victory - Bamidele

Guardian, 16 July 2018

The Director General of Kayode Fayemi Campaign Organization, Opeyemi Bamidele, has urged the All Progressives Congress (APC) to see its victory as a challenge to prove ability to… Read more »

Nigeria: Ekiti Election - Defeated Opposition Candidate Rejects Results

Premium Times, 15 July 2018

The candidate of the Peoples Democratic Party in Saturday's governorship election in Ekiti State, Olusola Eleka, has rejected the verdict by the Independent National Electoral… Read more »

Nigeria: Ekiti Election a Political Robbery - Wike

Leadership, 16 July 2018

Rivers State governor, Chief Nyesom Ezenwo Wike, has described the outcome of the gubernatorial election in Ekiti State as a political robbery. Read more »

Nigeria: Ekiti - 4 Years After, Fayemi Returns to Ayaba House

Leadership, 16 July 2018

Four years after he was allegedly rigged out of office by the past administration of the Peoples Democratic Party (PDP), Dr John Kayode Fayemi, is set to return to Ayaba House, the… Read more »

Nigeria: Tragedy As Pastor Accidentally Drives Into Jubilating Crowd in Fayemi's Hometown

Premium Times, 15 July 2018

A mid-size wagon ran into an ecstatic crowd welcoming the victory of Kayode Fayemi on Sunday morning, hitting a seven-year-old boy and leaving him ghastly wounded. Read more »

Nigeria: #EkitiDecides2018 - PDP, Reacts to Fayemi's Victory

Premium Times, 15 July 2018

The Peoples Democratic Party has given an initial reaction to the victory of Kayode Fayemi in Saturday's governorship election in the state. Read more »

Nigeria: Buhari Speaks On Fayemi's Victory in Ekiti Governorship Poll

Premium Times, 15 July 2018

President Muhammadu Buhari heartily congratulates Dr. John Kayode Fayemi on winning the Ekiti State governorship election. Read more »

Nigeria: Ekiti Election - Fayemi Speaks, Urges Fayose, Eleka to Accept Defeat

Premium Times, 15 July 2018

The Ekiti governor-elect, Kayode Fayemi, has called on the incumbent governor, Ayodele Fayose and his deputy and candidate of the Peoples Democratic Party, Olusola Eleka, to accept… Read more »
InFocus
Ekiti State Governor Ayodele Fayose, whose tenure comes to an end in October this year, has nominated Olusola-Eleka to succeed him, and paired him with a 39-year-old deputy. The ... Read more »