South Africa Has High Hopes for BRICS Summit
South Africa's government is gearing up to host the tenth BRICS annual summit in Johannesburg on July 25-27, 2018. South Africa, which holds the rotating chair for 2018, hopes to strengthen its local economy by cooperating better with BRIC partner countries - Brazil, Russia, India and China.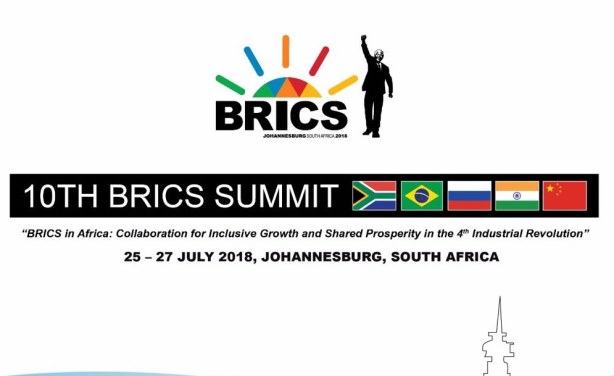 South Africa is hosting the 10th #BRICS Summit from 25 - 27 July 2018 in Johanneburg. The summit's theme is "BRICS in Africa: Collaboration for inclusive growth and shared prosperity in the 4th Industrial revolution."
South Africa: Brics Business Leaders Attend Business Forum in Sandton, 25 Jul

Govt of SA, 24 July 2018

More than 1000 delegates from Brazil, Russia, India, China and South Africa (BRICS) will gather at the Sandton Convention Centre in Johannesburg tomorrow, Wednesday, 25 July 2018… Read more »

South Africa: SA to Lead By Example As It Welcomes a World of Leaders, Not All of Them Democratic

Daily Maverick, 24 July 2018

The South African government will not be playing Big Brother by teaching democracy to any 'undemocratic' leaders who visit the country this week for the BRICS summit in… Read more »

South Africa: Inter-Ministerial Committee On the 10th Brics Summit Media Briefing

Govt of SA, 23 July 2018

Media Statement by the Inter-Ministerial Committee (IMC) on the 10th BRICS Summit, BRICS Media Centre, Sandton Convention Centre Read more »

South Africa: IBSA Could Function As a Democratic Organisation Within BRICS Itself

Democracy Works, 19 July 2018

Before the rise of BRICS (Brazil, Russia, India, China and South Africa), the alliance between India, Brazil and South Africa (IBSA) promised to align the globe's largest… Read more »
InFocus
Chinese President Xi Jinping signed 15 bilateral agreements with Rwanda while visiting the East African country, the second stop on a four-nation tour to cement relations with ... Read more »