To Some Kenyans, Kofi Annan Was Both 'Dictator' and 'Fox'
Kofi Annan's mediation of the 2008 post-election crisis in Kenya was among the "most intensive and enduring of all my interventions," he said afterwards. Some of his Kenyan interlocutors called him "the fox" for forcing them to agree on issues against their will, and others a "dictator" for pushing them to agree on the governance of their own country.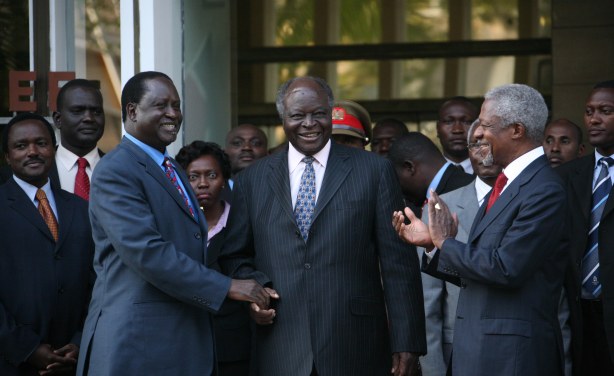 President of Kenya, Mwai Kibaki, shakes hands with opposition leader Raila Odinga during peace talks in Nairobi, Kenya, January 2008. Peace talks have been ongoing, led by former UN Secretary-General Kofi Annan.
InFocus
The Ghanaian national, who lived in Switzerland, was a career diplomat who projected quiet charisma and is widely credited for raising the world body's profile in global politics ... Read more »

Friends, leaders and organisations have been sharing their memories of the career diplomat, global leader, and passionate advocate Kofi Annan. He passed away after a short illnes Read more »