U.S. Largest Base - for Drones - Nearing Completion in Niger
The U.S.air base in Niger for armed drones. designed to target militant groups in the region, is months away from becoming operational, VOA reports. At a cost of nearly $100 million, the project is the largest the Air Forcie has ever undertaken. Because of logistical challenges, that initial price tag will soon be dwarfed by the price of operating the facility - about $30 million a year, according to Nick Turse, writing in The Intercept.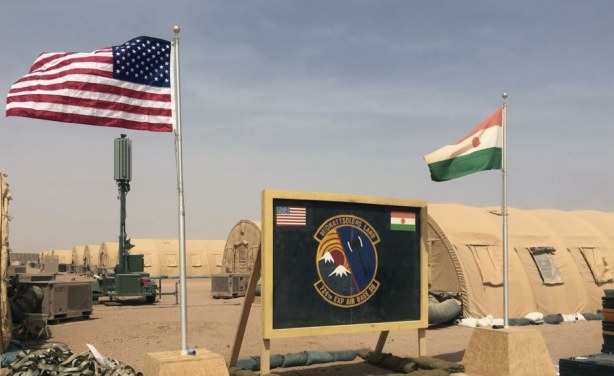 In this photo taken April 16, 2018, a U.S. and Niger flag are raised at the base camp for air forces and other personnel supporting the construction of Niger Air Base 201 in Agadez, Niger.
InFocus
The Islamic State in the Greater Sahara has claimed responsibility for an attack that killed four U.S. and four Nigerien soldiers in the western part of the country in October ... Read more »

The United States is reportedly planning to establish a military base in Niger to increase Unmanned Aerial Vehicle (UAV) surveillance of militant extremist groups operating in West ... Read more »

The U.S. Secretary of State, Rex Tillerson, says the funding will support the Group of Five Sahel Joint Task Force, a military unit set up by Burkina Faso, Chad, Mali, Mauritania ... Read more »