African Lives Improve But Inequality Runs Deep
The UN Development Programme's latest Human Development Index shows that although Sub-Saharan African nations still dominate the list of the world's least developed countries, the average improvement in quality of life has grown by 35 percent since 1990. Nevertheless, gaps in human development across countries, while narrowing, remain huge.
Africa: Africans Live A Decade Longer Than in 1990, But...

allAfrica, 14 September 2018

The level of human development in Sub-Saharan Africa, judged by how long people live for, how well they are educated and how much they earn, has improved by more than a third in… Read more »

Nigeria: Report Says Nigeria's Human Development Index Rises

Vanguard, 15 September 2018

A new report by United Nations Development Programme (UNDP) has shown Nigeria's Human Development Index rising by two points and life expectancy also rising by eight years. Read more »

South Africa: UNDP Report shows that South Africans are enjoying a longer and healthier life

Brand SA, 19 September 2018

Brand South Africa welcomes South Africa's improvement in the 2018 United Nations Development Programme (UNDP) Human Development Report (HDR). South Africa's 2018… Read more »

Kenya: Kenya Lags Behind in Human Development, UN Report Reveals

Nation, 15 September 2018

Kenya ranks highest among East African countries on the United Nations' human development index, but it still lags far behind the world's most developed countries, a new report… Read more »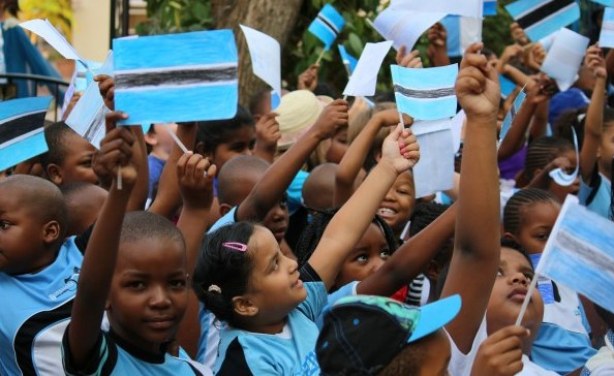 Schoolchildren in Botswana, which has jumped eight places up on the UN's Human Development Index in the past five years. Girls can expect to stay in school for 12.8 years and boys 12.5 years in Botswana, while women can expect to live for an average of 70 years and men 65 years.
Africa: Wide Inequalities Cast Shadow On Human Development Progress

UNDP, 14 September 2018

According to the latest Human Development Index, people living in the very high human development countries can expect to live 19 years longer, and spend seven more years in… Read more »

Africa: New Report Warns of Huge Funding Gap in Ending Poverty

ODI, 13 September 2018

At least 400 million people will still be living on less than $1.90 a day by 2030, despite governments pledging to eliminate all extreme poverty, new research from the Overseas… Read more »

Africa: Poverty in Africa - the Staggering Figures and the Hope

allAfrica, 17 July 2017

One in three Africans is destitute, says a new study on poverty in 39 African nations led by development economists at Oxford University in Britain. Read more »

Africa: Thirty Nations Cut 'Multidimensional' Poverty in 'Runaway Success'

allAfrica, 9 June 2016

According to a new analysis from the Oxford Poverty & Human Development Initiative at the University of Oxford, 30 of 35 sub-Saharan African countries analysed for changes to… Read more »

Africa: World Must Step Up to Beat Poverty By 2030

UNDP, 23 February 2016

Meeting the Sustainable Development Goals (SDGs) is only possible with a broad coalition of leaders from government, civil society, multilaterals and the private sector, said Helen… Read more »

Africa: One Step Forward, Two Steps Back?

allAfrica, 25 July 2014

While a number of African countries have recently made some progress in improving the quality of life of their people, nearly as many are backsliding, according to the latest… Read more »

Africa: 'Environmental Challenges' Threaten Growth, UN Report Says

allAfrica, 2 November 2011

Over the next four decades Africa's progress in human development could outpace any other region of the world, but environmental challenges could threaten the continent's… Read more »

Africa: Continent Makes Major Gains in Improving People's Lives, Says UN Report

allAfrica, 4 November 2010

Ethiopia has emerged as Africa's top performer in improving its people's lives over the past 40 years, says a major United Nations report published today. But while most African… Read more »

Africa: How Uganda Can Raise Sustainable Finances for the Implementation of the SDGs

Southern Voice, 10 September 2018

This blog highlights potential financing sources that Uganda can tap into for the implementation of the Sustainable Development Goals (SDGs) in the country. Read more »

South Africa: There's a New Way of Measuring Poverty in South Africa - Here's How It Works

The Conversation Africa, 11 June 2018

There's more to understanding a country's poverty levels than merely calculating how much or how little individuals earn. That's why a method called the multidimensional poverty… Read more »
InFocus
Beating poverty in Africa will require finely-tuned interventions to overcome the wide variety of factors hindering development, including targeted action in areas ranging from ... Read more »