Vendors Forced Off Zimbabwe Streets Amid Deadly Cholera Outbreak
Zimbabwean authorities have issued a banning order against vendors across the capital, Harare, following a deadly cholera outbreak that has claimed more than 30 lives. The has led to many fearing a repeat of the outbreak that killed thousands in 2008.
Zimbabwe: Minister Mavima Orders Vendors Out

The Herald, 19 September 2018

Newly-appointed Minister of State for Midlands Provincial Affairs Larry Mavima has implored all local authorities in the province to clear illegal vegetable and fruit vendors in… Read more »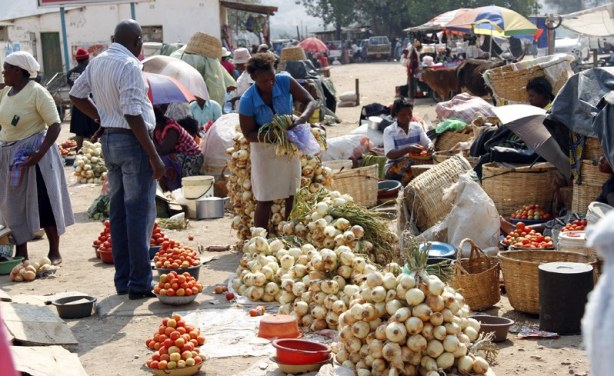 Vendors in Zimbabwe (file photo).
Zimbabwe: Govt Declares War on Cholera

The Herald, 19 September 2018

Government has set up an inter-ministerial committee to come up with a lasting solution to the cholera outbreak in Harare and other parts of the country. Read more »

Zimbabwe: 21% of Cholera Victims Aged Under Five, Says Minister Moyo

New Zimbabwe, 18 September 2018

About 21 percent of cholera victims in Harare are children below the age of five, local government minister July Moyo has revealed. Read more »

Zimbabwe: Vending Banned With Immediate Effect - Govt

New Zimbabwe, 18 September 2018

The government has banned "all types of vending be banned with immediate effect", cabinet ministers revealed Monday as the country battles a cholera epidemic that has claimed 30… Read more »

Zimbabwe: Govt Avails U.S.$6,7 Million to Curb Cholera Outbreak

The Herald, 18 September 2018

Government has availed $6,7 million for urgent health related needs and City of Harare's infrastructural requirements as it intensifies efforts to curb the cholera outbreak in… Read more »

Zimbabwe: CBD Clean-Up - Restoring Legacy of Sunshine

The Herald, 18 September 2018

IN the wake of the cholera epidemic that has so far claimed 30 lives leaving thousands hospitalised, it is commendable that Harare City Council, with assistance from the Zimbabwe… Read more »

Zimbabwe: Minister Nyoni Reiterates Call to Ban Illegal Vending

The Herald, 18 September 2018

Government will not allow vending at undesignated areas and sites without toilets and other requisite infrastructure as this is contributing to the spread of diseases such as… Read more »

Zimbabwe: Gweru Council On High Cholera Alert

The Herald, 18 September 2018

Gweru City Council is on high cholera alert and has implemented a raft of measures including burying refuse and attending to water bursts as soon as the report is received. Read more »

Zimbabwe: Govt Seeks U.S.$57 Million Cholera War Chest

The Herald, 18 September 2018

Government has launched an appeal for $57 million to contain the cholera outbreak, which has so far claimed 30 lives and left 5 000 people seeking treatment. Read more »

Zimbabwe: Cholera Outbreak Exposes Zimbabwe's Misplaced Priorities

Zimbabwe Standard, 17 September 2018

Cholera is a disease spread mostly by water and food that has been contaminated with faeces that contain cholera-causing bacteria. It breaks my heart just thinking about this. Read more »
InFocus
The disease has infected at least 4,000 people, with more cases being reported every day. It has left promoters debating whether to go on with their events, postpone, or cancel ... Read more »

Public gatherings have been banned in Zimbabwe's capital of Harare after a cholera outbreak claimed the lives of 21 people and left hundreds of others ill in just one week. The ... Read more »

The death toll from the cholera outbreak in the Harare's high-density suburbs of Glen View and Budiriro has risen to 16, with authorities tracing the source of the disease to a ... Read more »