Long Queues Slow to Trickle in Mozambique Voting
The main opposition Renamo party - running in the municipal vote for the first time in 10 years - have accused the ruling Frelimo party of violence but is hoping for a breakthrough in a local election that could expose cracks in the Mozambique's peace process.
Mozambique: High Early Voter Turnout Slows to Trickle Later

Mozambique News Reports And Clippings, 11 October 2018

Few afternoon voters and general calm, but also gunfire After the large turnout and long queues this morning, hardly anyone voted this afternoon. Only three correspondents… Read more »

Mozambique: High Turnout As Voting Begins

Mozambique News Reports And Clippings, 10 October 2018

Long queues in many places suggest that turnout will be higher this year than in past municipal elections, when turnout has been less than 50%. Based on reports from our… Read more »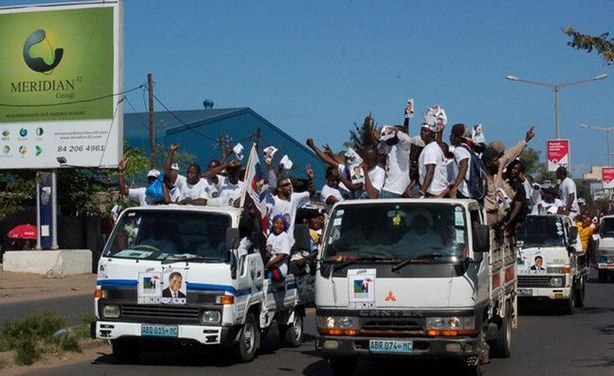 Renamo supporters (file photo).
Mozambique: Election Observers Broadly Satisfied At Start of Voting

AIM, 10 October 2018

Two Mozambican election observation platforms, the "Sala de Paz" (Peace Room) and "Votar Mocambique", on Wednesday gave a positive assessment of the first few hours of voting in… Read more »

Mozambique: Nyusi Calls for Mass Turnout

AIM, 10 October 2018

Mozambican President Filipe Nyusi on Wednesday urged all registered voters to go to the polling stations to cast their ballots in the Mozambican municipal elections. Read more »

Mozambique: Quelimane Mayor Complains of Incomplete Registers

AIM, 10 October 2018

An embarrassing incident marred the start of voting for Mozambique's municipal elections on Wednesday morning in the central city of Quelimane, when the outgoing mayor, Manuel de… Read more »

Mozambique: All Polling Stations Open; Queues Now Short

Mozambique News Reports And Clippings, 10 October 2018

All polling stations have opened, but some opened late, and one in Beira at Inhamizua primary school only opened at 11.15 am because staff were only sent then. Long queues remain… Read more »

Mozambique: Polling Stations Open for Municipal Elections

AIM, 10 October 2018

Polling stations for Mozambique's municipal elections, visited by AIM in central Maputo on Wednesday morning, mostly opened on time, at 07.00. Read more »

Mozambique: Opposition Hopes to Retain Control of Quelimane

AIM, 2 October 2018

The mayoral candidate of the Mozambique Democratic Movement (MDM) for the central city of Quelimane, Rogerio Warowaro, on Monday urged voters to go to the polls in the 10 October… Read more »
InFocus
Mozambique holds local elections on October 10 in a vote that could test progress in the country's peace talks after a largely peaceful campaign although there have been a handful ... Read more »

With just three weeks to go before elections, the position of two prominent candidates for mayor are still being debated by the courts, and a third was rejected, writes Mozambique ... Read more »