Girls Dominate in Languages in Kenya's Primary Education Exams
Education Cabinet Secretary Amina Mohamed has said more than 50% of the Kenya Certificate of Primary Education exams candidates scored above 250 marks out of 500. The selection of candidates who will join Form One in 2019 starts on December 3.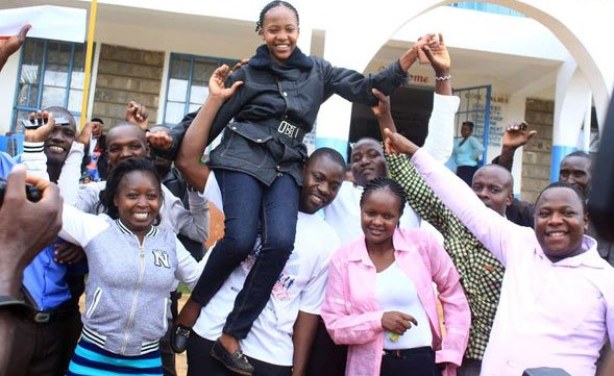 Parents and teachers of Imperial Primary in Kisii town celebrate with Gloria Kemunto Ogochi who scored 435 marks in KCPE on November 19, 2018.
Kenya: More Than 8,300 Missed KCPE Exam, Says Amina Mohamed

Nation, 20 November 2018

A total of 8,347 pupils registered for this year's Kenya Certificate of Primary Education examination but did not turn up for the tests, the Education CS said on Monday. Read more »

Kenya: Form One Selection to Start on December 3, Education CS Amina Says

Nation, 19 November 2018

The selection of candidates who will join Form One in 2019 will start on December 3, Education Cabinet Secretary Amina Mohamed has said. Read more »

Kenya: Son of Capital FM Editor Among Top KCPE Achievers

Capital FM, 19 November 2018

It is mixed reactions for parents and guardians of the more than one million Kenya Certificate for Primary Education candidates, as results trickle in following the Monday release… Read more »

Kenya: Two Top Students Tie at 453 Marks in KCPE 2018 Results

Capital FM, 19 November 2018

Two candidates have tied at the top of this year's Kenya Certificate of Primary Education examinations after they both scored a sterling 453 marks out of possible 500. Read more »

Kenya: Public, Private Schools in Mt Kenya Fight for Top KCPE Slots

Nation, 19 November 2018

Kirinyaga County has produced the top candidates in Mt Kenya region as public and private schools fought for the top positions in this year's KCPE exams results released by… Read more »

Kenya: Celebrations as Academic Giants Shine in KCPE Exam

Nation, 19 November 2018

Many of the all-time academic giants in Nakuru, Nyandarua and Narok counties retained their top positions in the 2018 KCPE examination results. Read more »

Kenya: More Than 2,000 KCPE Candidates Scored Between One and 100 Marks

Capital FM, 19 November 2018

Some 2,177 Kenya Certificate for Primary Education (KCPE) candidates scored between one and 100 marks in the results announced by Education Cabinet Secretary Amina Mohammed. Read more »

Kenya: KCPE 2018 Results Was Pure and True Reflection of Hard Work - CS Amina

Capital FM, 19 November 2018

Education Cabinet Secretary Amina Mohamed says that there were no leakages in this year's Kenya Certificate of Primary Education (KCPE) exams and pointed out that the results are a… Read more »
InFocus
This appalling revelation comes amid reports of several pregnant candidates writing their national primary and secondary school examinations. Read more »

Kenyan students are sitting for Certificate of Primary Education Examinations, an event that never passes without incidents of cheating and other malpractices. This year we've ... Read more »

This year's Kenya Certificate of Primary Education examinations is off to a smooth start, with one candidate even giving birth and then writing her mathematics examination paper in ... Read more »