Blac Chyna is Coming to Nigeria With A Skin Lightening Cream?!
The controversial U.S. reality star has invited her followers to attend the official launch of Diamond Illuminating and Lightening Cream in Lagos. Blac Chyna is collaborating with skin bleaching queen Nigerian-Cameroonian singer Dencia to launch the new product.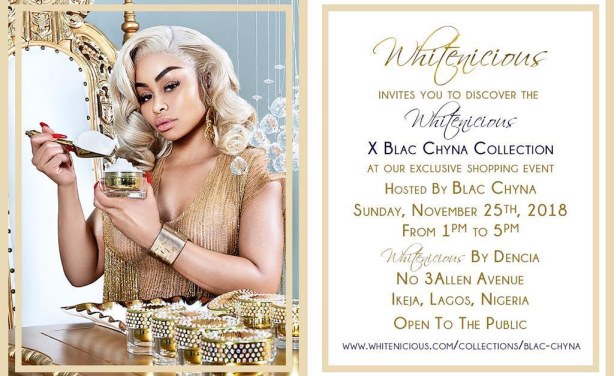 Blac Chyna to sell skin lightening cream in Nigeria?
Nigeria: American Celebrity Blac Chyna Selling Bleaching Cream in Nigeria

This is Africa, 22 November 2018

Imported Self Hate: Controversial American ex-entertainer Blac Chyna announced she will be in Nigeria to promote her new Whitenicious x Blac Chyna Collection, described as an… Read more »

Nigeria: Dencia Fires Back At Burna Boy Over Bleaching Cream

Guardian, 22 November 2018

Singer and CEO of Whitenicious, Dencia has fired back at Nigerian singer, Burna Boy over his comment on Blac Chyna proposed launch of a bleaching cream in Nigeria. Read more »

Nigeria: Bleaching Cream - Burna Boy Comes for Blac Chyna

Guardian, 21 November 2018

Burna boy was obviously not so happy about Blac Chyna's proposed visit to Nigeria to sell bleaching cream. Read more »

Nigeria: Blac Chyna Partners With Denica

Guardian, 19 November 2018

According to TMZ, Blac Chyna is partnering with Whitenicious by Dencia to roll out a beauty product called "Whitenicious X Blac Chyna Diamond Illuminating & Lightening Cream".… Read more »

Nigeria: U.S. Star Blac Chyna to Visit Abuja?

Vanguard, 2 November 2018

The news of American super model, Angela Renée White, a.k.a Blac Chyna's planned visit to Abuja, later this month went viral on the internet few days back. The former… Read more »