Africa's Free Trade Deal 'Could Be A Reality by March 2019'
The agreement on the African Continental Free Trade Area has the potential to boost intra-African trade and support economic development. The Institute for Security Studies interviews Carlos Lopes on progress being made with the deal. Lopes is a professor at the University of Cape Town, a member of Rwandan President Paul Kagame's African Union reform advisory team and former executive secretary of the United Nations Economic Commission for Africa.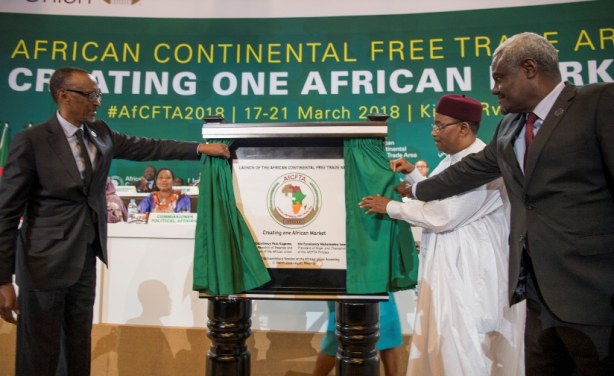 African Union chair and Rwandan President Paul Kagame, President Mahamadou Issoufou of Niger, and the chair of the African Union Commission Moussa Faki Mahamat unveil a plaque marking the launch of the African Continental Free Trade Area at the Kigali Convention Centre on March 21, 2018.
InFocus
The chairperson of the African Union, Rwandan President Paul Kagame, has challenged the continental assembly to fast-track the process of free trade and the movement of persons in ... Read more »

President Muhammadu Buhari says that Nigeria would not sign any treaty without assessing its impact on the lives of its citizens. The agreement proposes creating a single market ... Read more »

More countries are joining in the continental deal expected to remove taxes from up to 90% of the 200 items traded on the continent, making them cheaper for consumers. South ... Read more »