Commuters Livid as Governor Bars Matatus From Nairobi CBD
Governor Mike Sonko has said the removal of matatus from the centre of Nairobi is not a punishment for residents but to bring order to the city. He says his administration has invested heavily in the construction of bus terminals in Ngara and Muthurwa which are ready for use.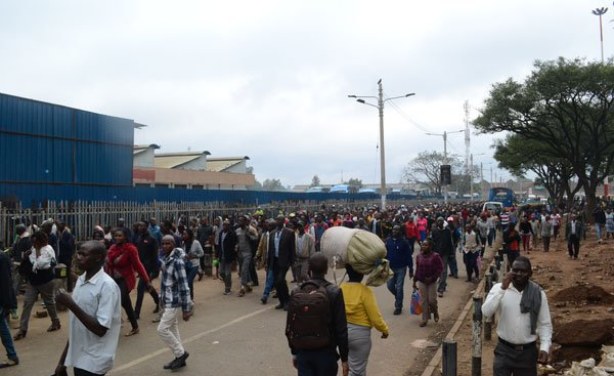 Commuters walk to work in the CBD after being dropped off at the Railways terminus on December 3, 2018.
Kenya: Matatu Saccos Sue Sonko After Being Kicked Out of CBD

Nairobi News, 3 December 2018

Twenty one Nairobi Matatu Saccos have sued the Nairobi County government over the directive prohibiting Public Service Vehicles from accessing the City Center. Read more »

Kenya: 'You've Goofed!" Nairobians Tell Sonko On Matatu Ban

Nairobi News, 3 December 2018

Irate Nairobians lashed out at Governor Mike Sonko on Monday morning as the effects of his CBD ban on matatus started to bite. Read more »

Kenya: Sonko Apologises, but Says Matatu CBD Ban to Stay

Nairobi News, 3 December 2018

Nairobi Governor Mike Sonko has apologised to commuters for the pain caused by his CBD matatu ban. Read more »

Kenya: Court Declines to Suspend Nairobi CBD Matatu Ban

Capital FM, 3 December 2018

The High Court has declined to suspend the ban on matatus from accessing the Nairobi Central Business District, in a case filed by 21 Saccos. Read more »

Kenya: Matatu Owners Warn of 'Consequences' Over Nairobi CBD Ban

Capital FM, 3 December 2018

The Matatu Owners Association is warning of adopting a drastic measure if the Nairobi County Government fails to rescind its decision to ban matatus from the Central Business… Read more »

Kenya: Sonko Apologies to Commuters, Asks for Support

Nation, 3 December 2018

Nairobi Governor Mike Sonko has apologised to commuters for pain caused by city centre matatu ban and asked for support assuring them that the situation is set to improve. Read more »

Kenya: Sakaja Takes on Sonko Over Matatu Ban

Nation, 3 December 2018

Nairobi Senator Sakaja Johnson has taken on City Hall after moving to court to suspend Governor Mike Sonko's ban on matatus from the Central Business District (CBD). Read more »

Kenya: Nairobi Commuters Trek to Work as Matatu Ban Takes Effect

Nation, 3 December 2018

Do you work in Nairobi's Central Business District and use public transport to reach your work station? Read more »

Kenya: What Kenyans Think of Nairobi Matatu Ban

Nation, 3 December 2018

Nairobi residents and travellers arriving to the capital early Monday morning from upcountry were among the hardest hit by City Hall decision to ban picking and dropping off of… Read more »

Kenya: Sakaja Rushes to Court to Lift Sonko's Matatu CBD Ban

Nairobi News, 3 December 2018

Nairobi Senator Johnson Sakaja moved to court on Monday to seek orders lifting the ban prohibiting Public Service Vehicles from accessing the city centre. Read more »

Kenya: Nairobians React as CBD Ban on Matatus Takes Effect

Nairobi News, 3 December 2018

Nairobians on Monday expressed varied reactions to Governor Mike Sonko's ban on matatu from the CBD. Read more »

Kenya: Matatus Vow to Defy City Centre Ban

Nation, 2 December 2018

A showdown looms tomorrow after matatu operators in Nairobi vowed to defy the directive by Nairobi County government to ban public service vehicles from the city centre even as the… Read more »