Zimbabwe's Maziwisa, Pambuka Jailed for Fraud
Former Zanu-PF legislator Psychology Maziwisa and veteran broadcaster Oscar Pambuka have been convicted by a Harare Magistrate on fraud charges. The duo were facing two counts of swindling the Zimbabwe Power Corporation of U.S.$12,650 in a botched public relations deal.
Zimbabwe: Pambuka, Maziwisa Jailed 6 Years for Fraud

New Zimbabwe, 7 December 2018

Former ZBC TV presenter, Oscar Pambuka and former Zanu PF legislator, Psychology Maziwisa were Thursday sentenced to 78 months each after they were convicted of swindling the… Read more »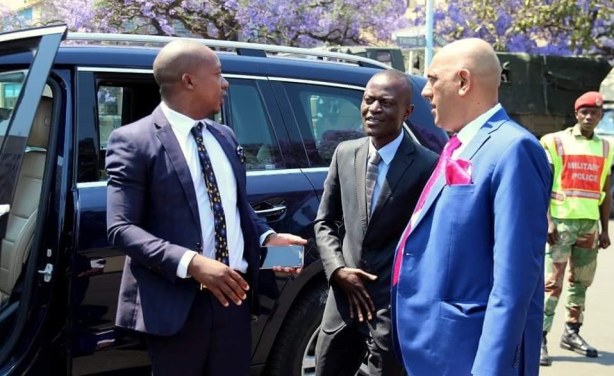 Former Zanu PF MP Psychology Maziwisa, former ZBC news anchor Oscar Pambuka and lawyer (file photo).
Zimbabwe: Maziwisa, Pambuka Found Guilty

The Herald, 6 December 2018

Former Highfield legislator Psychology Maziwisa and former ZBC News anchor Oscar Pambuka have both been found guilty of fraud and sentenced to 54 months in prison. Read more »

Zimbabwe: Pambuka, Maziwisa Freedom Bid Hits Brick Wall

The Herald, 26 October 2018

A bid by former Zimbabwe Broadcasting Corporation (ZBC) news anchor Oscar Pambuka and ex-Zanu-PF Highfield West National Assembly representative Psychology Maziwisa for freedom… Read more »

Zimbabwe: Witness Nails Fraud-Accused Maziwisa, Pambuka

New Zimbabwe, 25 July 2018

A Zimbabwe Broadcasting Corporation (ZBC) executive heaped pressure Tuesday on fraud accused former news reader Oscar Pambuka and Zanu PF legislator Psychology Maziwisa. Read more »

Zimbabwe: More Pambuka Misery As Boss Disowns Newscaster's Hot Deals With Zpc

New Zimbabwe, 18 October 2018

ZBC editor in chief, Tazzen Mandizvidza Wednesday piled more misery on under-fire news anchor Oscar Pambuka as he distanced the national broadcaster from the newscaster's ill-fated… Read more »

Zimbabwe: Pambuka, Maziwisa Apply for Inspection in Loco

The Herald, 5 September 2018

Former Zimbabwe Broadcasting Corporation (ZBC) news anchor Oscar Pambuka and former Zanu-PF Highfield West National Assembly representative Psychology Maziwisa yesterday applied… Read more »

Zimbabwe: Witness Nails Maziwisa, Pambuka

The Herald, 25 July 2018

Zimbabwe Broadcasting Corporation's (ZBC) bulletin manager Mr Moses Charedzera yesterday testified against zanu-pf Highfield West National Assembly representative Psychology… Read more »

Zimbabwe: Fraud Accused Maziwisa, Pambuka Claim Political Victimisation As Trial Opens

New Zimbabwe, 22 June 2018

The fraud trial of Zanu PF legislator for Highfield, Psychology Maziwisa and business partner in former ZBC News anchor Oscar Pambuka commenced Thursday with the pair denying… Read more »

Zimbabwe: Psychology Maziwisa, Pambuka Arrested Over 'Corrupt' Zesa Deal

New Zimbabwe, 9 January 2018

The Zimbabwe Anti-Corruption Commission (Zacc) late Tuesday announced it had arrested Zanu PF MP Psychology Maziwisa and State broadcaster ZBC presenter Oscar Pambuka. Read more »

Zimbabwe: Undenge Languishes in Jail

Zimbabwe Standard, 29 July 2018

JAILED former Energy minister Samuel Undenge will have to endure another weekend behind bars after his application seeking to overturn both his conviction and four-year jail term… Read more »
InFocus
The trial of the jailed former energy minister Samuel Undenge in connection with a case in which a company was reportedly awarded a corrupt tender has begun. Now that former ... Read more »