South African Lobby Group Protests Tanzania's Anti-Gay Laws
Lobby group Amandla.mobi have drawn attention to the Tanzania government's anti-gay laws, by staging a protest outside the Tanzanian Embassy in Pretoria. They are also demanding that South Africa's President Cyril Rampahosa condemn "anti-queer" action in Tanzania. This comes after that country's Regional Commissioner Paul Makonda announced the creation of a surveillance squad to hunt down gay people in the country.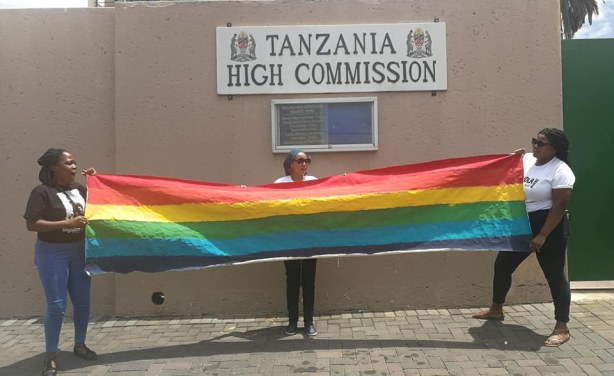 Lobby group protest against anti-queer action in Tanzania.
InFocus
The governor of Dar es Salaam has drawn up a list of people accused of homosexuality who could now be rounded up in Tanzania's latest anti-gay crackdown. Paul Makonda told ... Read more »

The Tanzanian government has distanced itself from sentiments against gays voiced by Dar es Salaam Regional Commissioner Paul Makonda, who last week announced the creation of a ... Read more »

Eight men and 12 women were arrested in a hotel where they were attending a training session organized by an NGO that works on education programs for HIV/AIDS. Read more »