First Intra-Africa Trade Fair Brings Hope to African Business
The first Intra-Africa Trade Fair has opened to much fanfare in Cairo, Egypt, an event that follows the Africa Business Forum held in Sharm El Sheikh in Cairo earlier in the week. Spearheading the Fair is Afreximbank, described as a multilateral financial institution which finances and promotes intra and extra African trade. President of the African Export-Import Bank Benedict Oramah said in his opening address: "We need initiatives that will catalyse a strong production or industrial base for production of export manufacturing initiatives that will improve our knowledge of, and access to, trade and investment information and initiatives that will facilitate movement of goods across borders in competitive terms."
Afreximbank headquarters in Cairo, Egypt.
Africa: African Development Bank Team to Showcase Bank's Operations At Intra-African Trade Fair in Cairo, Egypt

African Development Bank, 11 December 2018

A delegation from the African development Bank will participate in the Intra-African Trade Fair (IATF), which will hold in Cairo, 11-18 December 2018, as co-sponsor of the event. Read more »

Egypt: Songwe Leads ECA in Showcasing Its Work At Inaugural Intra-African Trade Fair in Cairo, Egypt

Economic Commission for Africa, 10 December 2018

All is set for the Intra-African Trade (IATF) that begins in Cairo, Egypt, Tuesday with Economic Commission for Africa (ECA) Executive Secretary, Vera Songwe, set to attend three… Read more »

Africa: Afreximbank's Virtual Intra-African Trade Fair Goes Live

Afreximbank, 10 December 2018

Ahead of the kick-off of the inaugural Intra-African Trade Fair (IATF 2018) opening in Cairo tomorrow, the African Export-Import Bank (Afreximbank) today in the Egyptian capital… Read more »

Africa: AfreximBank Opens Virtual Platform for Information On African Trade

Premium Times, 28 November 2018

Afreximbank has opened a virtual platform for information on African trade, president of the bank, Benedict Oramah, announced on Wednesday. Read more »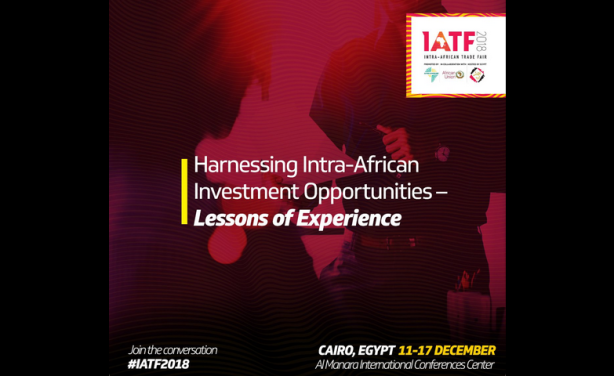 Intra-Africa Trade Fair logo