Nigerian Presidential Candidate Atiku Signs Peace Accord
Atiku Abubakar has signed the peace accord for 2019 presidential candidates in Abuja. Abubakar, the candidate for the Peoples Democratic Party, had been absent when the committee gathered candidates, including President Muhammadu Buhari, to sign the pact. Abubakar blamed a communications mishap for his initial failure to turn up.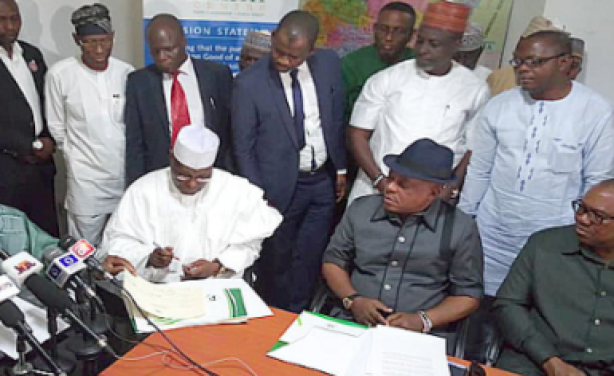 Atiku Abubakar signing the peace accord.
Nigeria: Credible Elections Doubtful Unless Buhari Signs Electoral Bill - Atiku

Vanguard, 12 December 2018

Presidential candidate of the Peoples Democratic Party, PDP, Alhaji Atiku Abubakar has cast doubt over the possibility of having free, fair and credible elections in 2019 in the… Read more »

Nigeria: APC Whips Atiku Over Peace Accord

Vanguard, 12 December 2018

The All Progressives Congress has described as hogwash the excuse given by the opposition Peoples Democratic Party to explain the absence of its candidate Atiku Abubakar from the… Read more »

Nigeria: Atiku, Ezekwesili Sign Peace Accord

Vanguard, 12 December 2018

Less than 24 hours after President Muhammadu Buhari signed a peace accord ahead of 2019 elections, the candidates of the Peoples Democratic Party (PDP) , Alhaji Atiku Abubakar, who… Read more »
InFocus
Nigerian political parties have signed a peace accord committing to a peaceful poll in 2019. President Muhammad Buhari signed the accord, but his main rival Atiku Abubakar says he ... Read more »

President Muhammadu Buhari has for the fourth time this year refused to sign the Electoral Act into law, much to the consternation of critics and supporters. The president says he ... Read more »