Nationwide Strike Can Start Anytime Without Notice - Labour Union
The Nigerian Labour Congress has threatened to embark on a nationwide protest, if the government fails to submit the new national minimum wage bill to the National Assembly. Labour unions are demanding U.S.$83, while private employers and some state governors propose U.S.$69.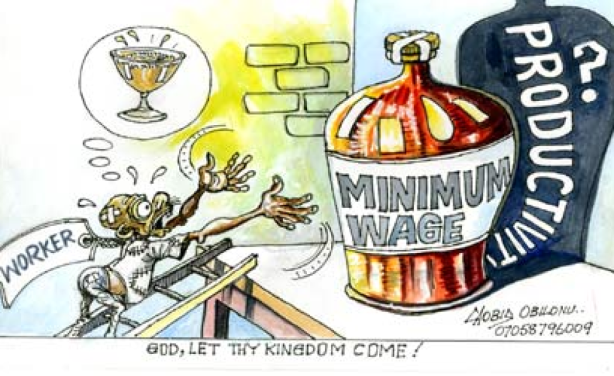 Minimum wage crisis.
Nigeria: Minimum Wage - Nationwide Strike Can Start Anytime Without Notice

Vanguard, 8 January 2019

Ahead of a nationwide strike over the Federal Government's refusal to send a draft bill on N30,000 National Minimum Wage to the National Assembly to legislate into law, organised… Read more »

Nigeria: Workers' Protest Over Minimum Wage Begins Today

This Day, 8 January 2019

The Nigeria Labour Congress (NLC) has directed its 36 state councils, affiliate unions and friendly groups, including Civil Society Organisations (CSOs) to mobilise for the… Read more »

Nigeria: Minimum Wage - NLC to Hold Protest Tuesday

Premium Times, 7 January 2019

The Nigeria Labour Congress (NLC) has said it will hold a nationwide protest on Tuesday over the president's delay in transmitting the recommendations of the committee on a new… Read more »

Nigeria: NLC, Others Hold Protest Over Minimum Wage

Premium Times, 8 January 2019

Nigeria's organised labour unions will proceed with a planned protest today over a new national minimum wage, after a last minute attempt by the federal government to forestall the… Read more »

Nigeria: No New Minimum Wage, No Vote, Unions Tells Govt

Guardian, 7 January 2019

Nigeria Labour Congress (NLC) on Monday threatened to boycott the 2019 general election should the Nigerian government fail to activate a new minimum wage. Read more »
InFocus
The Nigerian Labour Congress has fixed January 8 as a national day of protest to show anger over the delay in implementing the new minimum wage. Read more »

The lingering crisis around the new national minimum wage took a new turn as organised labour threatened to demand payment of two years arrears of the proposed new national minimum ... Read more »

President Muhammadu Buhari held a closed-door meeting with some state governors over the issue of new national minimum wage. The meeting comes a week after the governors had an ... Read more »