Former President Obasanjo Says Buhari Planning to Rig Election
Former Nigerian President Olusegun Obasanjo has attacked President Muhammadu Buhari, accusing him of plotting to rig the coming elections. In an open letter, Obasanjo also alleged that the president was acting like former military dictator Sani Abacha. In reply, the ruling All Progressives Congress said that Obasanjo was haunted by what he himself did while in office. The presidential and National Assembly elections will be on February 16.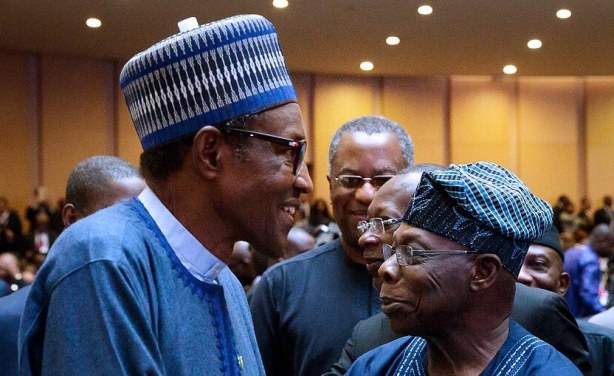 President Muhammadu Buhari and former President Olusegun Obasanjo attending the African Union summit taking place at Addis Ababa, Ethiopia.
Nigeria: Obasanjo's Attack On TraderMoni Reflects Either His Ignorance or Mischief - Presidency

Premium Times, 21 January 2019

The Presidency has reacted to a scathing attack by former President Olusegun Obasanjo on Vice President Yemi Osinbajo-led social safety programme, TraderMoni. Read more »

Nigeria: Presidency Prays for Obasanjo to 'Get Well Soon'

Leadership, 21 January 2019

The Presidency has described the 16-page letter the former President, Chief Olusegun Obasanjo, wrote to President Muhammadu Buhari, as "last push by desperate politicians who can't… Read more »

Nigeria: INEC Uncovers Alleged New Vote-Buying Plans

Guardian, 22 January 2019

The Independent National Electoral Commission (INEC) says it has uncovered new plans by some politicians to buy votes through food vendors around polling units in the forthcoming… Read more »

Nigeria: INEC Uncovers Politicians' Fresh Strategy for Vote-Buying

This Day, 22 January 2019

Less than 25 days to the presidential election, the Independent National Electoral Commission (INEC) said yesterday that it had uncovered new plot by some political actors to use… Read more »

Nigeria: Electoral Board Uncovers Plan to Use Food Vendors for Vote-Buying

Leadership, 21 January 2019

The Independent National Electoral Commission (INEC) said it had uncovered plans by some political actors to use food vendors around polling units for vote-buying in the… Read more »

Nigeria: Buhari Planning to Rig Elections - Former President Obasanjo

Premium Times, 20 January 2019

Former President Olusegun Obasanjo on Sunday attacked President Muhammadu Buhari, accusing him of plotting to rig the general elections. Read more »

Nigeria: Obasanjo Says TraderMoni Programme 'Idiotic'

Premium Times, 21 January 2019

Former President Olusegun Obasanjo has attacked Vice President Yemi Osinbajo, saying that he (the Vice President) has displayed executive recklessness and abuse of office. Read more »

Nigeria: Under Buhari, Boko Haram Stronger Than Ever Before - Obasanjo

Premium Times, 20 January 2019

A former Nigerian president, Olusegun Obasanjo, said on Sunday that the Boko Haram insurgents have become stronger than ever. Read more »

Nigeria: Obasanjo Doubts INEC's Neutrality, Asks Amina Zakari to Step Aside

Premium Times, 20 January 2019

Former President Olusegun Obasanjo on Sunday expressed doubt over the neutrality of the Independent National Electoral Commission (INEC) in the forthcoming general elections. Read more »

Nigeria: Ruling Party Replies to Obasanjo, Says Ex-President Haunted By His Past

Premium Times, 20 January 2019

The All Progressives Congress (APC) says that former President Olusegun Obasanjo is being haunted by what he did while in office, especially with regards to the conduct of… Read more »

Nigeria: Obasanjo Needs a Good Doctor for Treatment - Presidency

Vanguard, 20 January 2019

THE Presidency Sunday night said that the former President Dr. Olusegun Obasanjo needs a good doctor for a good treatment so that he will get well quick Read more »

Nigeria: Explain Whether Elections Were Free and Fair Under Your Govt, Presidency Tells Obasanjo

Vanguard, 20 January 2019

THE Presidency Sunday night said it will not join issues with former President Olusegun Obasanjo over his allegations of increasing rate of insecurity, impunity in the system and… Read more »

Nigeria: Full Text of Obasanjo's Latest Criticism of Buhari

Premium Times, 20 January 2019

A former Nigerian president, Olusegun Obasanjo, on Sunday criticised President Muhammadu Buhari, accusing him of plotting to rig the general elections. In a statement he personally… Read more »
InFocus
The Independent National Electoral Commission has 144 names which comprises eligible presidential candidates and their running mates. Read more »

President Muhammadu Buhari says he is seeking re-election to consolidate on his achievements in the fight against corruption, insecurity and to ensure economic development. Buhari ... Read more »

The parties allege that the Independent National Electoral Commission had inserted new clauses in the guidelines which they argued would lead to massive rigging of the elections in ... Read more »