Fake News, Corruption, Vote Buying Threaten Nigeria's Elections
With less than a week until the presidential polls, President Muhammadu Buhari has disclosed that the Economic and Financial Crimes Commission has raised concerns over laundered money being funnelled into vote buying. The two main party rivals Peoples Democratic Party and the All Progressives Congress are accusing each other of using dirty tricks, including fake news, to stifle support.
Nigeria: Buhari, Atiku War Over Alleged Vote-Buying

Vanguard, 11 February 2019

Ahead of the February 16 presidential election, President Muhammadu Buhari has raised the alarm of alleged fresh threats to the election through vote-buying by those he said looted… Read more »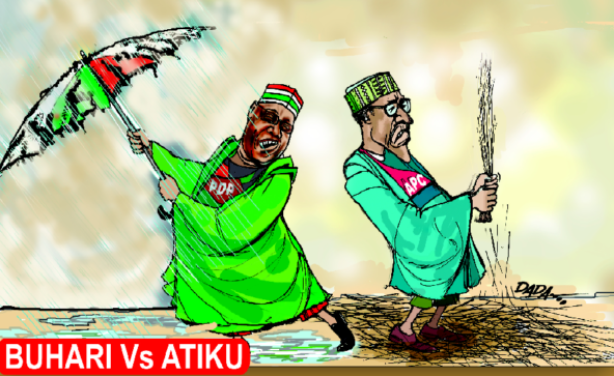 Abubakar Atiku, 2019 presidential candidate for PDP and President Muhammadu Buhari of the APC.
Nigeria: This'll Be My Fifth and Last Election - I'll Not Abuse Constitution - Buhari Vows

Vanguard, 11 February 2019

The Presidential Candidate of the All Progressives Congress, APC, President Muhammadu Buhari, Sunday vowed that the forthcoming 2019 presidential election would be the last he… Read more »

Nigeria: Clinton, Others to Monitor Buhari, Atiku Sign New Pact to Accept Polls Result

Vanguard, 11 February 2019

Former President Bill Clinton of United States is to watch over a second peace pact to be signed between President Muhammadu Buhari, the presidential candidate of All Progressives… Read more »

Nigeria: How Politicians, Supporters Use Fake News As Campaign Strategy

Premium Times, 10 February 2019

With fake news gradually creeping into the Nigerian media, there have been several attempts by the federal government and some international organisations to help curb the spread,… Read more »

Nigeria: Kano PDP Rally - Atiku Pledges Priority Attention to Agric, Commerce

Guardian, 11 February 2019

The People's Democratic Party (PDP) Presidential candidate, Atiku Abubakar has promised to give priority attention to agriculture and Commerce, if elected President. Read more »

Nigeria: National Assembly Members in Crucial Popularity Test Next Saturday

This Day, 10 February 2019

Next Saturday's general election is a major popularity test case for a majority of the National Assembly members. Read more »

Nigeria: Corruption Threatens Nigeria's Elections - Buhari

Premium Times, 10 February 2019

President Muhammadu Buhari has said he believes corruption threatens the presidential and parliamentary elections scheduled for next Saturday. Read more »

Nigeria: Abducted Dapchi Schoolgirl Leah Sharibu Not Dead - Minister

Premium Times, 10 February 2019

The Minister of Information and Culture, Lai Mohammed, has described as "absolute fake news" the reports that the abducted Dapchi schoolgirl, Leah Sharibu, has died in captivity. Read more »

Nigeria: Presidential Candidates Explain Plans for Nigeria If Elected President

Premium Times, 11 February 2019

Six presidential candidates on Sunday explained their plans ahead of February 16 general election. Read more »

Nigeria: Buhari Pleads Nigerians to Re-Elect Him

This Day, 11 February 2019

President Muhammadu Buhari yesterday in a video message, pleaded with Nigerians to re-elect him at next Saturday's presidential election, saying he would not take their "support… Read more »

Nigeria: APC Campaign Alerts On Plot By PDP to Launch Fake News Campaign

Vanguard, 11 February 2019

The Muhammadu Buhari Presidential Campaign yesterday alleged a plot by the Peoples Democratic Party, PDP to inundate the media with fake news ahead of Saturday's presidential… Read more »

Nigeria: From Polling Unit to Prison - the Fate of Any Troublesome Voter

Vanguard, 11 February 2019

The Bill for an Act to establish the Nigerian Electoral Offences Commission and the Bill for an Act to establish the Electoral Offences Tribunal were two legislative efforts at… Read more »

Nigeria: We've No Problem With Atiku's Presidential Ambition - Biafra Group

Vanguard, 11 February 2019

Nnewi--Leader of the Indigenous People Biafra, IPOB, and Director of Radio Biafra, Nnamdi Kanu, yesterday said he had no problem with Alhaji Atiku Abubakar's presidential ambition… Read more »

Nigeria: 'Nigerians'll Vote Atiku to Correct Error of 2015'

Leadership, 11 February 2019

Deputy chairman (South) of Peoples Democratic Party (PDP) Presidential Campaign Council, Otunba Gbenga Daniel, has said Nigerian electorate will vote en-masse for PDP's… Read more »

Nigeria: Elections - Police Increase Security Around INEC Offices

Premium Times, 10 February 2019

The Acting Inspector General of Police, Mohammed Adamu, has ordered a comprehensive, round-the-clock security in all offices and facilities of the Independent National Electoral… Read more »
InFocus
Less than a week before the presidential election, a fire at the Independent National Electoral Commission office has destroyed election materials such as ballot boxes, voting ... Read more »

As Nigeria prepares to hold elections on February 16, a U.S.-based polling firm Williams and Associates, has predicted victory for Atiku Abubakar in the forthcoming presidential ... Read more »

Nigeria went to polls on February 23 to pick a new president. Currently, President Muhammadu Buhari and former vice president Atiku Abubakar are the frontrunners in the 2019 race ... Read more »