Now Sudan Coup Leader Also Steps Down
Defence Minister Awad Ibn Auf announced his decision in a broadcast on state TV on Friday. The BBC reports that he named as his successor Lieutenant General Abdel Fattah Abdelrahman Burhan.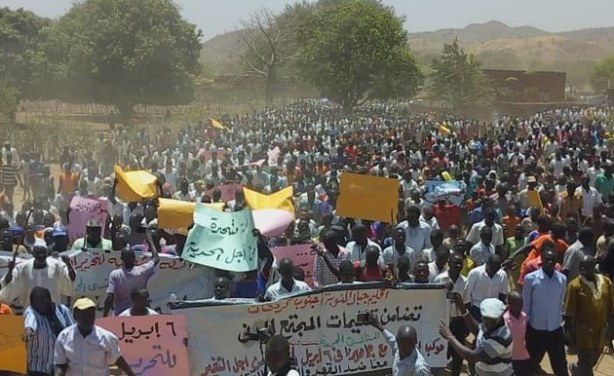 Demonstrations in Sudan that led to the ousting of long time leader Omar Al-Bashir.
Sudan: Military Council Won't Extradite Al-Bashir for ICC

Deutsche Welle, 12 April 2019

Sudan's new military rulers say ousted President al-Bashir will not be extradited while they are in power. Protesters are meanwhile calling for a swift return to civilian rule. Read more »

Sudan: We Will Hand Power as Soon as Possible, Says Sudan's Military

allAfrica, 12 April 2019

The head of the political committee of the newly established military transitional council has said in a press conference on Friday that the military has no political agenda for… Read more »

Sudan: Military Council Ready to Shorten the Interim Period

SNA, 12 April 2019

The Chairman of the Political Committee delegated by the Military Council, Lt General Omar Zain Al Abdeen, told a press conference he held at the Ministry of Defense on Friday that… Read more »

Sudan: Protesters Vow More Demos Despite Bashir Ouster

Deutsche Welle, 12 April 2019

Protesters in Sudan have defied a night-time curfew, holding a sit-in to call for civilian rule after an army coup toppled the president. Authorities have announced two years of a… Read more »

Sudan: Sudan Faces a Future Without Al-Bashir

VOA, 12 April 2019

Protest leaders and analysts predict more change as Sudan adjusts to a new reality, without the president who led the country for three decades. Read more »

Sudan: Transition Falls Short of Expectations

Nation, 11 April 2019

In former defence minister Awad Mohamed Ahmed Ibn Auf and now head of the transition council which ousted President Omar al-Bashir Thursday, Sudan is between a rock and a hard… Read more »
InFocus
A plan by Sudan's military to take over the country's government is getting a cold reception from protesters and the international community. Sudan's defence minister announced the ... Read more »

The Sudanese Defence Minister, Awad Ahmed Ibn Auf, has been sworn-in as interim president of Sudan, after Defence Minister Awad Ibn Ouf said on state television that the army would ... Read more »