Sudanese Opposition Rejects Military Takeover
A plan by Sudan's military to take over the country's government is getting a cold reception from protesters and the international community. Sudan's defence minister announced the takeover on state television on Thursday, after the army ousted the country's longtime president, Omar al-Bashir, following months of demonstrations against his 30-year rule. The United Nations Security Council is due to hold closed-door talks about the Sudan situation on Friday, while Al Jazeera is reporting that protesters defied a curfew imposed by the transitional military authority.
Sudan: Opposition Rejects Army Communique

SudaNow, 1 April 2019

The Sudanese Professionals Association and the allied opposition parties have categorically rejected Communique No I that was announced on Thursday by Defense Minister Awad ibn Oaf… Read more »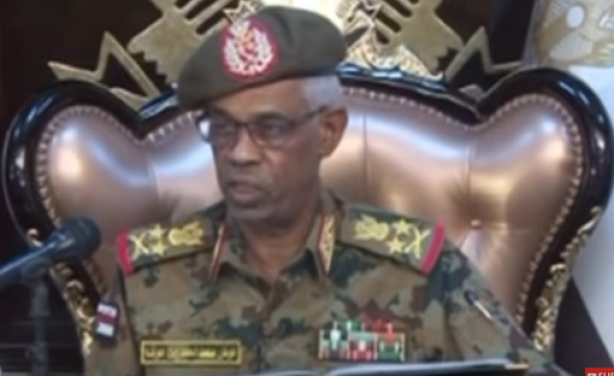 Defence Minister Awad Ibn Ouf speaking on state television.
Sudan: Military's Post-Bashir Plan Gets Rocky Reception

VOA, 12 April 2019

Khartoum/United Nations/Washington - A plan by Sudan's military to take over the country's government is getting a cold reception from protesters and the international community,… Read more »

Sudan: U.S. State Department Press Briefing - April 11, 2019 (Excerpt)

State Department, 12 April 2019

Robert Palladino, Deputy Spokesperson, Department Press Briefing, Washington, DC, April 11, 2019 Read more »

Sudan: International Community Call for Restraint and Calm

Radio Dabanga, 11 April 2019

The international community including the UN Secretary-General António Guterres, and African Union Commission chairman, Moussa Faki Mahamat, have called for restraint and… Read more »

Sudan: Woman in Iconic Protest Image Reports Getting Death Threats

Thomson Reuters Foundation, 11 April 2019

A woman who has come to symbolize protests in Sudan after being photographed chanting atop a car during protests against President Omar al-Bashir said on Thursday she has gotten… Read more »

Sudan: Enough Project, Actor Don Cheadle Issue Warning About Coup

ENOUGH, 11 April 2019

The Enough Project is gravely concerned by the nature of the coup d'etat that took place in Sudan overnight. President Omar al-Bashir's First Vice-President and Minister of… Read more »

Sudan: Statement By High Representative/Vice-President Federica Mogherini On the Situation in Sudan

EASS, 11 April 2019

For months, the people of Sudan have peacefully and with determination called for change. Read more »

Sudan: With Al-Bashir Ouster, End Authoritarianism

HRW, 11 April 2019

The end of Omar al-Bashir's 30-year rule provides a momentous opportunity for Sudan to put respect for human rights and rule of law at the center of its transition, Human Rights… Read more »

Sudan: Sudan - Military Authorities Must Break With Al-Bashir's 'Deeply Repressive' Rule

AI London, 11 April 2019

Responding to the ousting of Sudan's President Omar al-Bashir in a military coup following months of street protests, Kumi Naidoo, Amnesty International's Secretary General, said: Read more »

Sudan: Omar Al-Bashir - a Military Autocrat With a Shrewd Sense of Politics

The Conversation Africa, 11 April 2019

The reign of Omar al-Bashir is over. His 30 years of rule are finally at an end. Like previous Sudanese leaders, he was finally toppled by the army, which finally sided with the… Read more »

Sudan: How Protesters Upped the Ante and Forced Al-Bashir From Power

The Conversation Africa, 11 April 2019

Following months of protests, and a prolonged sit-in outside the military headquarters in Khartoum, Sudanese president Omar al-Bashir was placed under house arrest on April 11 as… Read more »

Sudan: Demands for Toppled President Omar Al-Bashir to Face Prosecution

Daily Maverick, 12 April 2019

Experts differ over whether the new Sudanese military junta should be pressured to surrender ousted President Omar al-Bashir to the International Criminal Court. Read more »
InFocus
The Sudanese Defence Minister, Awad Ahmed Ibn Auf, has been sworn-in as interim president of Sudan, after Defence Minister Awad Ibn Ouf said on state television that the army would ... Read more »

There is speculation that a coup attempt could be underway against Sudan's President al-Bashir, with State radio reporting that the army is set to make an "important" announcement ... Read more »

Protests outside the military headquarters in Khartoum continued into a fourth day in a resurgence of calls for Sudanese President Omar al-Bashir to step down. Clashes between the ... Read more »