Ebola Centres Come Under Attack in DR Congo
Militants have attacked another hospital in North Kivu Province on Saturday. This after gunmen in Butembo attacked a hospital and killed Dr Richard Mouzoko, an epidemiologist from Cameroon who was working on containing the Ebola outbreak in the region.
Congo-Kinshasa: Rebels Attack Ebola Hospital in North Kivu

Deutsche Welle, 20 April 2019

Militiamen in the DRC's North Kivu province attacked another hospital in their most recent assault on organizations fighting Ebola. The city of Butembo in North Kivu province is at… Read more »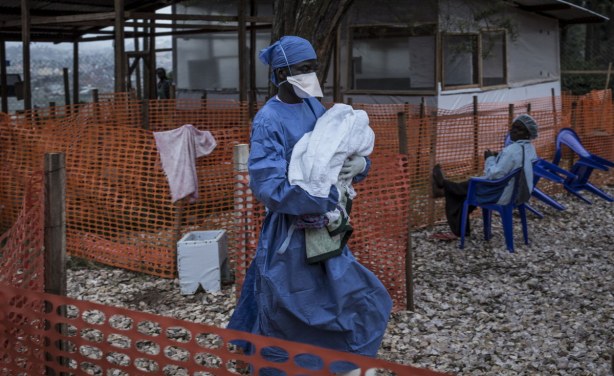 A caretaker already cured from Ebola is seen carrying a four day old baby suspected of having ebola, into a MSF supported Ebola Treatment Centre(ETC) in Butembo (file photo).
InFocus
The World Health Organization reports an increase in the number of Ebola cases. It says there were 72 recorded cases last week, compared to 56 cases the week before. An earlier ... Read more »

The World Health Organization has said that 65 new confirmed cases was reported in the last seven days, predominantly from Katwa, Mandima, Butembo, and Vuhovi. Read more »

The UN has said that while Ebola does not constitute a public health emergency of international concern, there is a potential risk of the disease spreading to neighbouring ... Read more »