Nollywood Actress Tonto Dikeh Airs Ex-Husband's Dirty Laundry
Hurt that her former husband Olakunle Churchill claimed Tonto Dikeh pushed his mother and accused her of infidelity, she has turned the tables on him and spilled the tea on several issues. In different interviews, the actress has alleged that Churchill is a cheat and a fraudster.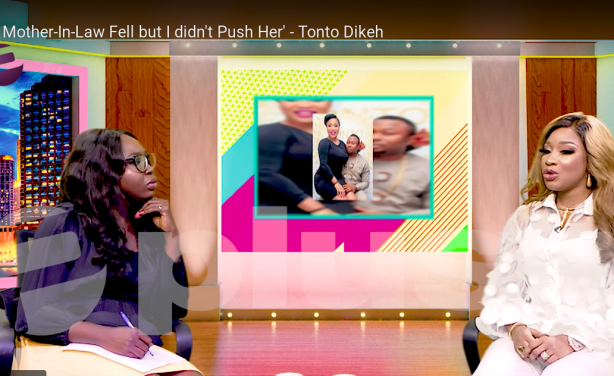 In another interview with Plus TV Africa, Tonto Dikeh alleged that her ex husband is a fraudster.
Video
Author:

Plus TV

Publisher:

Publication Date:

3 May 2019

In a series of interviews across multiple platforms, Tonto Dikeh is opening up about her marriage to ex husband Olakunle Churchill. see more »
Nigeria: Actress Tonto Dikeh Talks About Dating in Nollywood

Guardian, 28 April 2019

Popular Nollywood star, Tonto Dikeh while speaking in an interview has talked about the fake love in Nollywood industry and how the actresses recycle the same men. Read more »

Nigeria: Tonto Dikeh's Bitterness Against Ex Husband

Leadership, 6 April 2019

The past days have been filled with controversies from artistes dissing each other in the Kizz Daniel's song 'Fvck You'. One of them is popular Kenyan singer, Victoria Kimani, who… Read more »

Nigeria: Tonto Dikeh's Estranged Husband Accuses Her of Forgery

Vanguard, 5 April 2019

Mr Olakunle Churchill, the estranged husband of Tonto Dikeh, has petitioned the Inspector General of Police (IGP), Mohammad Adamu, against the controversial actress. Read more »

Nigeria: Tonto Dikeh's Ex-Husband Speaks On His Failed Marriage

Premium Times, 20 March 2019

Churchill Adekunle, the ex-husband of controversial Nollywood actress, Tonto Dikeh, has once again spoken about their crashed marriage and how they met at a Lagos nightclub. Read more »

Nigeria: Olakunle Churchill Talks About His Failed Marriage to Tonto Dikeh

Guardian, 19 March 2019

Entrepreneur and philanthropist, Olakunle Churchill, the ex-husband of actress, Tonto Dikeh has revealed he met the Nollywood star at a nightclub. Read more »