Will Buhari's New Cabinet Be Nigeria's Saving Grace?
President Muhammadu Buhari intends to do a clean sweep and gather a new team that would help him deliver the "dividends of democracy" to Nigerians. According to a Leadership report, about 70% of the current ministers are desperately lobbying to serve in the next Cabinet. Hopefully it won't take six months for Buhari to name his team, like it did in 2015...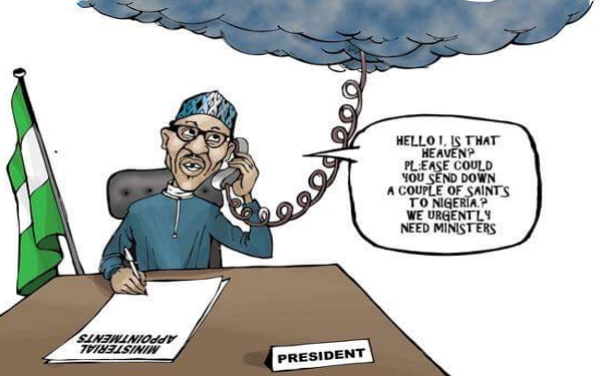 Buhari's ministerial appointments.
Nigeria: Ministers in Last Minute Lobbying Ahead of Cabinet Dissolution

Leadership, 19 May 2019

Barely nine days to President Muhammadu Buhari's inauguration for a second term on May 29, ministers have intensified lobby to retain their appointments in the federal cabinet,… Read more »

Nigeria: Appointments - Buhari Favoured South More Than North - Records

Vanguard, 21 May 2019

If the contents of classified records were anything to go by, the perception that President Muhammadu Buhari's political appointments have unduly favoured the Northern part of the… Read more »

Nigeria: Buhari's New Cabinet - Time for More Technocrats

Guardian, 19 May 2019

This time of preparation for a second term for Nigeria's leader is another right time to preach and pray for him so that he can perform better for the country. It is also a time to… Read more »

Nigeria: Adamawa, Kano, Ogun, Oyo Top List of Buhari's Aides

This Day, 20 May 2019

Appointees from Adamawa, Kano, Ogun and Oyo States dominated a list of presidential aides approved by President Muhammadu Buhari to work with his administration since he assumed… Read more »

Nigeria: 'Buhari Should Address Imbalance in Appointments During His Second Tenure'

Guardian, 20 May 2019

A group of retired civil servants and professionals from the southern part of the country have urged President Muhammadu Buhari to address all outstanding issues affecting national… Read more »

Nigeria: Revealed - Ministers Who May Make Buhari's Next Level

Vanguard, 6 April 2019

On May 29, President Muhammadu Buhari will begin the Next Level journey which is his second and final tenure as prescribed by the Constitution of the country. Read more »

Nigeria: Are Ministers Any Different From Buhari?

This is Africa, 25 April 2019

It is not only the president of Nigeria who continues to disappoint and even embarrass his countrymen and subjects. His Ministers often follow suit. Read more »

Nigeria: Buhari Weighs Options On Incoming Cabinet

This Day, 15 April 2019

Barely a month and a half to the start of his second term, President Muhammadu Buhari is weighing his options for a new cabinet that would help him to deliver on his campaign… Read more »
InFocus
President Muhammadu Buhari has asked cabinet members for comprehensive status reports on policies, programmes and projects for their respective ministries, departments and ... Read more »

President Muhammadu Buhari has promised not to let the people down. Buhari pledged to keep working hard to deliver an improved life to Nigerians. Buhari has come under increased ... Read more »