Attendance is Free but Registration is Required | June 23 – 26, 2020
To register and learn more, visit the Forum website: https://cca.eventbank.com/event/corporate-council-on-africa-leaders-forum-23492/
Register now to attend the Corporate Council on Africa Leaders Forum, a high-level virtual webinar series which will bring together Heads of State, senior USG and African government officials, CEOs and private sector executives, and leaders from multilateral institutions to discuss U.S.-Africa business engagement that will shape and drive post-COVID-19 recovery in Africa.
The discussions at the Forum will address: The Global Financial Response to COVID-19 in Africa; Economic and Health Innovations in Response to COVID-19 in Africa; Drivers of post-COVID 19 Growth in Africa; and Sustaining Regional and Bilateral Trade in Africa post-COVID-19
African Presidents confirmed to speak at the Forum include:
H.E. Nana Akufo-Addo President of Ghana,
H.E. Uhuru Kenyatta President of Kenya
H.E. Filipe Nyusi, President of Mozambique.
Notable CEOs and private sector leaders, senior government and multilateral officials slated to speak including:
Dr. Vera Songwe, Under-Secretary-General, United Nations and Executive Secretary, United Nations Economic Commission for Africa
Hon. Dr. Zainab Shamsuna Ahmed, Hon. Minister of Finance, Budget and National Planning, Nigeria
Farid Fezoua, President and CEO, GE Africa
Gregory Rockson, Co-Founder and CEO, Mpharma
Tewolde GebreMariam, Group CEO, Ethiopian Airlines
Wamkele Mene, Secretary General, AfCFTA
Admassu Tadesse, President and Chief Executive of the Eastern and Southern African Trade and Development Bank (TDB)
Dr. Albert Zeufack, Chief Economist, Africa, The World Bank Group
Aida Diarra, SVP and Head of Sub-Saharan Africa, Visa
Acha Leke, Senior Partner, McKinsey & Company
Mr. Karim Senhadji, CEO, OCP Africa
Mohamad Darwish, Chief Executive Officer and co-founder of IHS Nigeria at IHS Towers and CEO, IHS Nigeria
Hon. Betty Maina, Cabinet Secretary, Ministry of Industrialization, Trade and Enterprise Development, Kenya
Dr. Donald Kaberuka, Chairman and Managing Partner, SouthBridge, Emeritus President, AfDB
Akin Dawodu, Managing Director, Head for Sub Saharan Africa, Citi
Paul Sullivan, President, International Business, Acrow Bridge
Rosa Whitaker, President and CEO, Whitaker Group
and many more!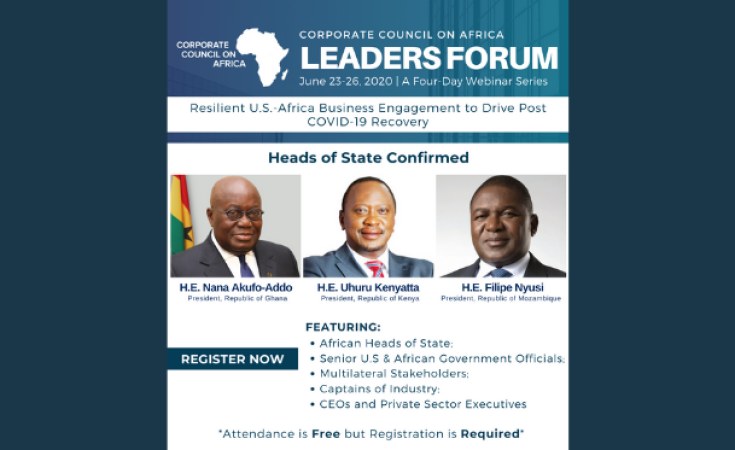 To register and learn more, visit the Forum website: https://cca.eventbank.com/event/corporate-council-on-africa-leaders-forum-23492/