UN Wants Ebola Flight Restriction Lifted
The UN Secretary General Ban Ki Moon has joined mounting calls for flight restriction on countries affected by the Ebola virus to be lifted. He said "banning flights and shipping services will not keep Ebola from spreading, but it will keep medical teams from reaching people most in need".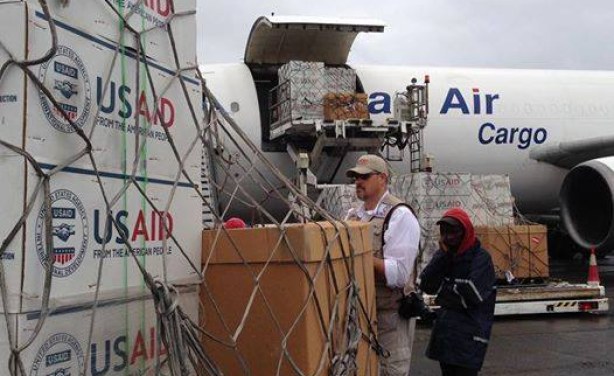 The U.S. Agency for International Development airlifts medical and emergency supplies.
Liberia: U.S. Stepping Up Ebola Support - Envoy

allAfrica, 2 September 2014

U.S. Ambassador to Liberia Deborah Malac has called for the lifting of travel restriction on countries affected by the Ebola outbreak in west Africa. Read more »

West Africa: With Better Ebola Response, 'Outbreak Would Be Over' - CDC's Frieden

allAfrica, 25 August 2014

As a fifth African country on Sunday announced Ebola deaths, Dr. Thomas Frieden, director of the U.S. Centers for Disease Control and Prevention (CDC), left for Liberia, Sierra… Read more »

West Africa: Ebola Hurts Economies in West Africa

VOA, 15 August 2014

The recent Ebola outbreak in West Africa is likely to hurt economic growth and government finances in Guinea, Liberia and Sierra Leone and perhaps Nigeria, according to a key… Read more »

Liberia: People Power Is Changing Ebola Narrative

allAfrica, 14 August 2014

The young campaigners thronging the street were wearing mismatched white T-shirts on which they had scribbled the words "Ebola awareness".As they passed a church, a melodious… Read more »

Africa: African Governments Take Isolation Measures

Deutsche Welle, 19 August 2014

African governments are sealing their ports and airports in an attempt to halt the spread of Ebola. But will fever checks and entry bans really make any difference? Read more »

West Africa: Ebola Response Up but Huge Gaps Remain

UNIRIN, 12 August 2014

While Ebola treatment and containment efforts are gradually gaining pace in Sierra Leone and Liberia, there are still far too few health workers, contact tracers and community… Read more »

West Africa: Ebola 'Racing Ahead' of Response - Obama to Raise at NATO

allAfrica, 3 September 2014

President Obama will discuss the Ebola emergency when he participates in the NATO summit in Wales this week. Read more »

West Africa: Air France Suspends Flights to Ebola-Hit Sierra Leone

RFI, 28 August 2014

Air France has suspended flights to Freetown due to the Ebola outbreak, leaving Sierra Leone and neighbouring Liberia reliant on just one airline, Royal Air Morocco. West African… Read more »

Kenya: Kenya Bans West African Travellers

Deutsche Welle, 17 August 2014

Kenya has become the latest country to ban passengers from Ebola-hit countries in West Africa. The Kenyan government said the measure applied to anyone who had traveled through… Read more »

Africa: Citizens Call to Action on Ebola - Petition

allAfrica, 31 August 2014

As the Ebola virus becomes an overwhelming human catastrophe affecting public health, social institutions and and economic well-being in Africa, we stand in solidarity with our… Read more »

West Africa: Outrage Over Global Ebola Response - Calls for Action

allAfrica, 20 August 2014

Imagine this choice. Your child has Ebola symptoms. You have no protective gloves to help keep you alive to care for her. But she needs comfort, so you wash her and wipe away her… Read more »