Sierra Leone Begins Burying Mudslide Victims, 600 Still Missing
Sierra Leone has begun a week of mourning for the victims of the mudslide and flooding that devastated parts of capital Freetown. With 600 people still missing, aid groups say it's a race against time to find survivors.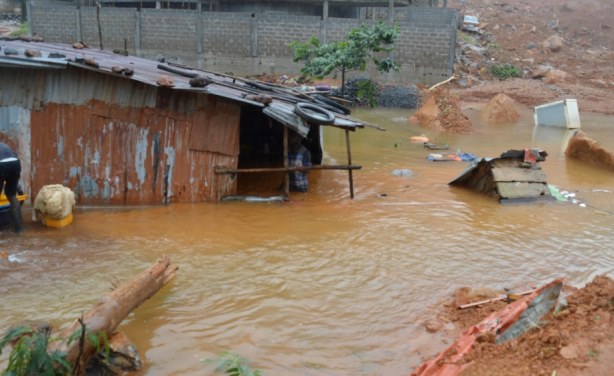 On August 14, a mudslide killed more than 400 people in the mountain town of Regent on the outskirts of Sierra Leone's capital Freetown, sweeping away homes and leaving residents desperate for news of missing family members.
Sierra Leone: Mass Burials After Devastating Mudslide

Al Jazeera, 16 August 2017

Facing the threat of disease, people in Sierra Leone on Wednesday began burying hundreds of victims of a mudslide that swept away homes on the edge of the capital, Freetown, in one… Read more »

Sierra Leone: Sierra Leone Mudslide - What, Where and When?

Al Jazeera, 16 August 2017

On August 14, a mudslide killed more than 400 people in the mountain town of Regent on the outskirts of Sierra Leone's capital Freetown, sweeping away homes and leaving residents… Read more »

Sierra Leone: Search for Survivors Under Way As Week of Mourning Begins

Deutsche Welle, 16 August 2017

Sierra Leone began a week of mourning for the victims of the mudslide and flooding that devastated parts of capital Freetown. With 600 people still missing, aid groups say it's a… Read more »

Liberia: Liberia Expresses Solidarity With Sierra Leone After Mudslide Kills Hundreds

FrontPageAfrica, 16 August 2017

Liberian President Ellen Johnson Sirleaf is expressing solidarity with the government and people of its next-door neighbors Sierra Leone in the aftermath of massive mudslides in… Read more »

Sierra Leone: Death Toll Rises in Sierra Leone Landslide

The Capitol Times, 16 August 2017

August 14 has been marked as the worst disaster day in the history of Sierra Leone. Read more »

Sierra Leone: Guterres Says UN Stands in Solidarity With Disaster-Hit Sierra Leone

UN News, 14 August 2017

Amid a mudslide and flooding in Sierra Leone, Secretary-General António Guterres today reiterated that the United Nations stands in solidarity with the Government and people… Read more »
InFocus
President Ernest Bai Koroma fought back tears as he described the devastation. Rescue workers have been searching for survivors amid the hundreds of homes that were engulfed by mud ... Read more »

At least 400 people have died and hundreds more are still missing after torrential rains on the outskirts of Sierra Leone's capital Freetown caused a mountainside to collapse on to ... Read more »