Kenya to Spend U.S.$50 Million to Stop Third Lecturers' Strike
The National Treasury has granted the ministry of education approval to use the funds, a move that could signal the end of the strike that has paralysed learning in 31 public universities. The lecturers have been on strike for three weeks since November 1, 2017, demanding higher pay.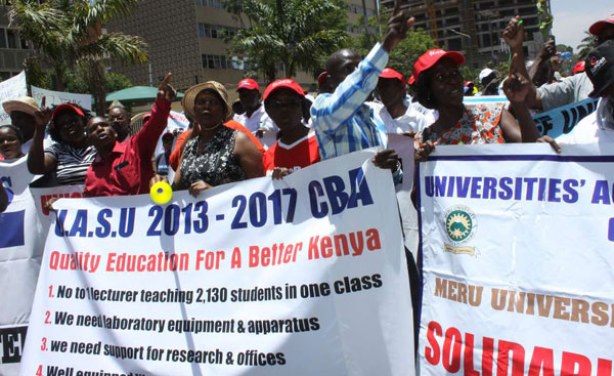 Members of the Universities Staff Academic Union protest at Harambee Avenue.
Kenya: Kamau Thugge Approves Sh5.2 Billion to Pay Striking Lecturers

Nation, 23 November 2017

The National Treasury has approved the release of Sh5.2 billion for enhanced salaries and house allowances for lecturers. Read more »

Kenya: Varsities Crisis Calls for a Serious Debate

Nation, 23 November 2017

Public universities have been grounded for three weeks because of a lecturers' strike. Read more »

Kenya: Public Universities Staff Set for Contract Employment

Nation, 19 November 2017

Tough times await public universities as the government moves to reform the sector it says has been riddled with financial mismanagement and poor governance. Read more »

Kenya: Universities Close as Dons' Strike Bites

Nation, 17 November 2017

The impact of the lecturers' strike which began two weeks started to be felt Friday when two public universities closed. Read more »

Kenya: Varsities Stopped From Hiring Permanent Lower-Cadre Staff

Nation, 15 November 2017

Universities will no longer hire lower-cadre teaching and non-teaching staff on permanent basis. Read more »

Kenya: KU, Jkuat Put Off Activities as Lecturers' Strike Bites

Nation, 15 November 2017

Two universities have suspended their activities owing to the ongoing lecturers' strike. Read more »

Kenya: Lecturers Claim State Insincere on Pay Deal

Nation, 8 November 2017

Lecturers yesterday criticised the government for failing to implement their pay deal as they sought the intervention of Parliament and the Ministry of Education. Read more »

Kenya: Lecturers Present Petition to Parliament

Nairobi News, 8 November 2017

Striking university lecturers on Wednesday presented their petition to Parliament. Read more »

Kenya: Lecturers Urged to Call Off Their Strike

Capital FM, 6 November 2017

Inter-Public Universities Councils Consultative Forum (IPUCCF) has appealed to University Academic Staff Union to call off the lecturers strike and resume working to avoid… Read more »
InFocus
All lecturers at the 31 public universities have been asked not to show up for duty until the government addresses their demands. Union leaders say some universities are still ... Read more »

Lecturers in 31 public universities are expected to issue a 21-day strike notice after the government failed to implement their pay increase. If they make good on their threat, ... Read more »

The lecturers will now get U.S.$49 million for basic salary increase and U.S,$5 million for house allowance. Read more »