Kenyan Lecturers in Fresh Talks to End Row on Salaries
In its proposal, the Universities Academic Staff Union wants a graduate assistant to earn a basic salary of between U.S.$1,935 and U.S.$3,026, assistant lecturer to get between U.S.$2,974 and U.S.$4,652 while lecturers take home between U.S.$4,015 to U.S.$6,281. The lecturers have threatened to go on strike should the government fail to provide a good deal.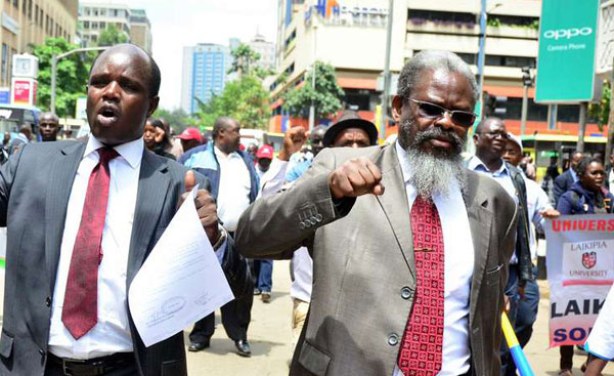 Universities Academic Staff Union Secretary-General Constantine Wasonga (left) and chairman Muga K'Olale demonstrate in Nairobi on November 8, 2017.
InFocus
The lecturers have been on strike since November 1, 2017, demanding higher pay. Read more »

The National Treasury has granted the ministry of education approval to use the funds, a move that could signal the end of the strike that has paralysed learning in 31 public ... Read more »

All lecturers at the 31 public universities have been asked not to show up for duty until the government addresses their demands. Union leaders say some universities are still ... Read more »