7 in 10 Deaths Caused by NCDs - WHO
More than 15 million people between the ages of 30 and 70 die from heart and lung diseases, cancer, and diabetes annually, according to the World Health Organisation . The major contributing agents of these diseases are tobacco use, harmful use of alcohol, unhealthy diets, and physical inactivity.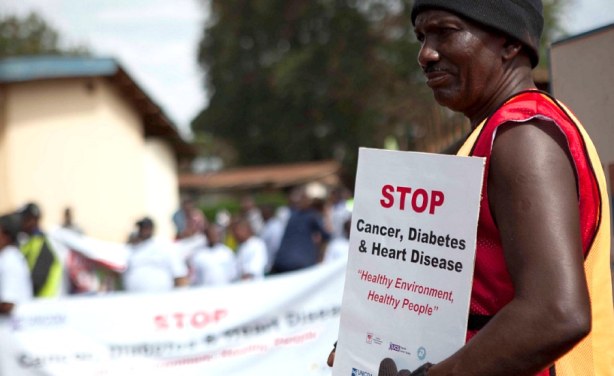 Mike of the Uganda NCDs Alliance leads a parade around the community in Kampala to raise awareness of NCDs.
InFocus
The World Health Organization has established a commission to help accelerate progress in tackling non-communicable diseases, primarily cardiovascular disease, cancers, diabetes ... Read more »

Non communicable diseases like stroke, heart attacks, diabetes, cancer and depression affect and kills millions of people globally every year. A number of African countries like ... Read more »

Addressing the World Health Organisation Global Conference in Uruguay, President Robert Mugabe has said that government is making efforts to establish an inter-ministerial task ... Read more »