Why Uganda's Museveni Was Not At Free Trade Summit in Rwanda
Uganda is among 44 African countries that have signed a free trade treaty - but its president was not at the event. Frederic Musisi of the Daily Monitor looks at why President Yoweri Museveni stayed home.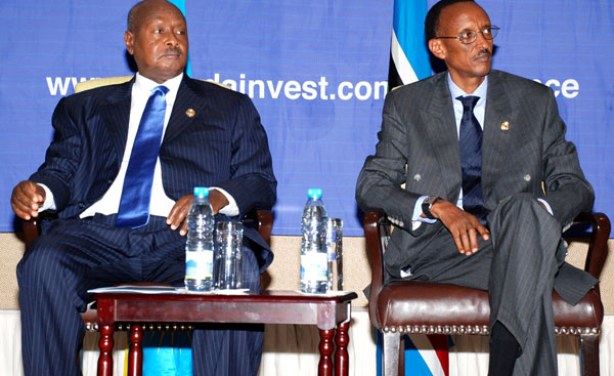 President Yoweri Museveni with his Rwandan counterpart Paul Kagame, right, at the East African Investment Conference in Kigali, Rwanda on June 26, 2008.
East Africa: Is There a Chill Beteeen Rwanda and Uganda?

Monitor, 22 March 2018

Uganda and Rwanda enjoy a very close, strategic relationship. Many of RPF's founders had their start in NRA and the bush war in 1981-1985. After RPF's initially botched invasion of… Read more »
InFocus
President Muhammadu Buhari has said his administration will not be in a hurry to enter into any agreement that would make the country a dumping ground and jeopardise the security ... Read more »

President Muhammadu Buhari has cancelled his trip to Rwanda for the signing of the Continental Free Trade Area framework in order to allow more time for input from more Nigerian ... Read more »

Representatives of 44 countries out of 55 member countries of the African Union have signed an agreement on the African Continental Free Trade Area at an extraordinary AU Summit in ... Read more »