Group Rejects Murder Charges Against Nigerian Shiite Leader
The Islamic Movement in Nigeria has described the murder charge as ridiculous, a mockery and in contempt of court. The group also condemned the statement by the crown prince of Saudi Arabia, Mohammad Bin Salman, to the international media on the success in "suppressing Ibrahim Zakzaky and the Islamic movement." Zakzaky has been charged with murder amid growing protests demanding his release from prolonged detention by the government since December 2015 despite court rulings authorising his release.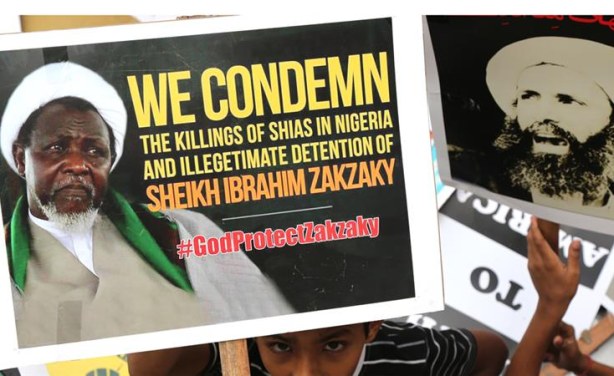 Protesters protest release of Ibrahim Zakzaky.
Nigeria: Bring Killer Soldiers to Justice As IMN Members Face Prosecution - AJ

Vanguard, 3 May 2018

The decision to prosecute 259 members of Islamic Movement in Nigeria, IMN, by the Kaduna State Government without bringing soldiers responsible for the killing of more than 348… Read more »

Nigeria: Human Rights At Risk - Amnesty International

Premium Times, 3 May 2018

The intimidation and harassment of journalists and bloggers, as well as violent crackdowns on peaceful protests, show the determination of the authorities to suppress the rights to… Read more »

Nigeria: Kaduna Govt's Prosecution of El Zakzaky, Others 'Deeply Unfortunate, Troubling' - Group

Premium Times, 1 May 2018

A judicial advocacy group, Access to Justice, has criticised the Kaduna State Government over its decision to file criminal charges against the leader of the Islamic Movement of… Read more »

Nigeria: Shiites Demand Unconditional Release of El-Zakzaky, Wife

Guardian, 1 May 2018

Members of the Islamic Movement of Nigeria (IMN), also known as Shiites have, once again, called for the immediate and unconditional release of its leader, Sheikh El Zakzaky and… Read more »
InFocus
The leader of the Islamic Movement in Nigeria, Ibrahim El-Zakzaky, has been charged with murder amid growing street protests demanding his release from prolonged detention. ... Read more »