Buhari Mocked for About-Turn On 'Lazy' Youths
Nigeria's opposition Peoples Democratic Party has described President Muhammadu Buhari's praise of Nigerian youth, while on his visit to Morocco, as a poorly packaged deception. The party says it was a desperate after-thought, aimed at calming the storm created when Buhari called the youth "lazy and lovers of freebies".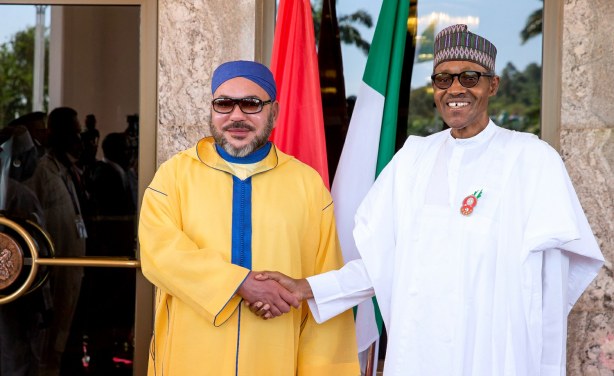 President Muhammadu Buhari and King Mohammed VI.
Nigeria: PDP to Buhari - Your Image Laundering in Morocco, a Mockery

PDP, 12 June 2018

The Peoples Democratic Party (PDP) has dismissed the image rescue effort by President Muhammadu Buhari before Moroccan Prime Minister, Saadeddine Othman, as a poorly packaged… Read more »

Nigeria: In Morocco, Buhari Says Nigerians Are 'Intellectually Aggressive, Economically Ambitious'

This Day, 11 June 2018

Nigeria's strongest selling point remains an "intellectually aggressive and economically ambitious" populace that always seeks self-improvement and self-actualisation in any part… Read more »

Nigeria: Buhari Suffering From Inferiority Complex, Says Jonathan's Aide

This Day, 12 June 2018

Former President Goodluck Jonathan's Special Assistant on New Media, Reno Omokri, Monday came down hard on President Muhammadu Buhari, describing him as a leader suffering from "a… Read more »

Nigeria: Nigerians Not Fooled By Buhari's Image Laundering in Morocco - Opposition

This Day, 13 June 2018

The Peoples Democratic Party (PDP) has described the praises showered on Nigerians by President Muhammadu Buhari before his host, the Moroccan Prime Minister, Saadeddine Othman, as… Read more »
InFocus
President Muhammadu Buhari is on a two-day working visit to Morocco. During the visit, he will meet with the King of Morocco, HRM Mohammed VI, to discuss socio-economic matters ... Read more »

President Muhammadu Buhari's comment that Nigerian youths are lazy has elicited angry reactions from citizens and groups across the country. Some youths accused the president of ... Read more »