Ethiopian, Eritrean Leaders Embrace as Thousands Cheer
"Hate, discrimination, and conspiracy is now over," Eritrean President Isaias Afwerki told Ethiopians as he was close to tears. "We are ready to move forward with you as one. No one can steal the love we have regained now", reports VOA.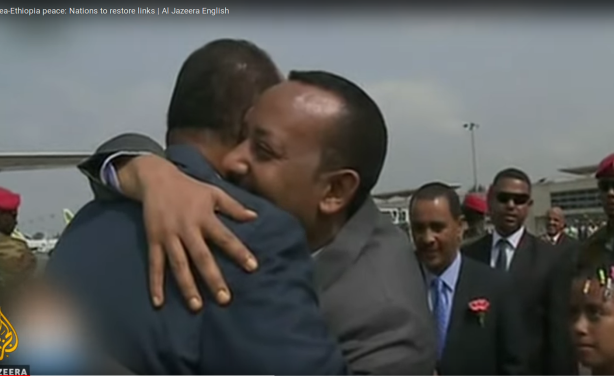 PM Abiy Ahmed and Eritrea's President Isaias Afwerki embrace on his arrival at the airport.
Ethiopia: Eritrea Reopens Embassy in Ethiopia

VOA, 17 July 2018

Eritrea has reopened its embassy in Ethiopia.The reopening Monday came a week after the two countries declared an end to two decades of a military stalemate over a border war in… Read more »

Ethiopia: Ethiopia and Eritrea Bridged - Primary Geopolitical Expositions

Reporter, 14 July 2018

The establishment of naval/military bases by powerful and emerging countries of the world in the Red Sea indicates the importance of the Red Sea and the necessity of political,… Read more »

Eritrea: Speech Delivered By President Isaias Afwerki At Millennium Hall, in Addis Abeba

Shabait, 15 July 2018

Distinguished People of Ethiopia Read more »

Eritrea: Eritrea to Reopen Embassy in Addis Ababa After Two Decades of Closure

The Herald, 14 July 2018

Eritrea will reopen its embassy in the Ethiopian capital Addis Ababa on Monday July 16, after over two decades of closure. Read more »

East Africa: A New Game Emerging in the Horn of Africa

SudaNow, 1 July 2018

A combination of international, regional behind the scenes mediation and support coupled with indigenous emerging will to compromise is setting the stage for a dramatic change in… Read more »

Africa: Eritrea and Ethiopia Have Made Peace. How It Happened and What Next

The Conversation Africa, 10 July 2018

This week Ethiopian Prime Minister, Abiy Ahmed visited neighbouring Eritrea, to be greeted by President Isaias Afwerki. The vast crowds that thronged the normally quiet streets of… Read more »

Africa: Ethiopia-Eritrea Peace - Some Unanswered Questions

African Arguments, 11 July 2018

It is astonishing how fast positive change can develop if there are people dedicated to bringing it about. Abiy Ahmed was sworn in as Ethiopia's prime minister only three months… Read more »
InFocus
Ethiopia has welcomed Eritrean President Isaias Afwerki for his first visit in 22 years. The visit shores up a remarkable improvement in relations after a generation of mutual ... Read more »

Ethiopia and Eritrea have officially declared an end to a two-decades-old war, a day after their leaders held a historic summit in the Eritrean capital. Read more »